Esta empresa ha salido varias veces en otros hilos: en el del sector agua, en el de Lluís, etc…
Creo también que el sector del agua es un sector con mucho futuro, regulado e imprescindible actualmente. Tener "agua" en la cartera es imprescindible. Sé que con Nestle cubres algo por sus muchas marcas de agua embotellada, pero creo que vale la pena incluir también tratamiento de aguas, así que le he echado un ojo:
"Aqua America is the second-largest publicly traded water utility based in the U.S., and serves more than 3 million people in Pennsylvania, Ohio, North Carolina, Illinois, Texas, New Jersey, Indiana and Virginia. Aqua America is listed on the New York Stock Exchange under the ticker symbol WTR."
Este es el historial de dividendos.
Segun la lista CCC lleva 26 años incrementando dividendos aunque la RPD es algo baja, sobre un 2.25%. Mirando la gráfica de evolución del dividendo de Dividend Channel parece que lleva muchos menos años, pero esto es debido a que ha hecho muchos splits: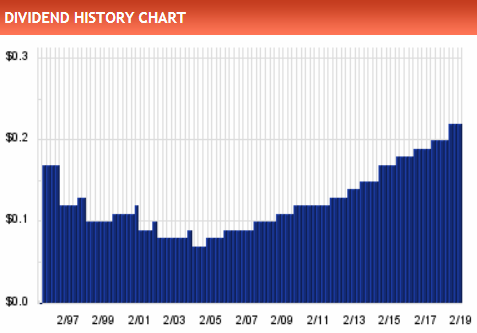 De los resultados de 2018 parece que el dividendo es sostenible: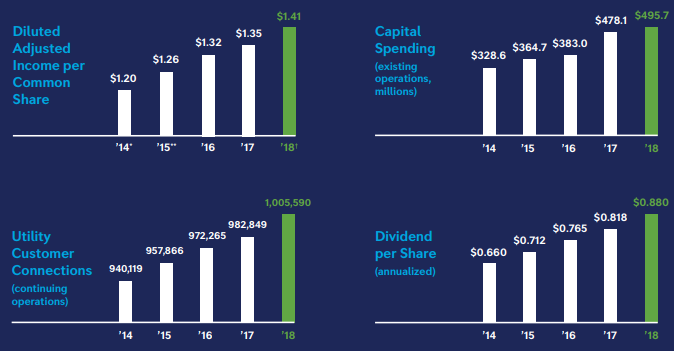 En unos días publicará resultados.
Una excelente empresa para invertir pero no para mi, ese 2,25% manteniendo el crecimiento se convierte en 10 años en un 5,84%, genial para alguien con un horizonte temporal mas largo, 20 o 30 años, pero a mi se me queda corto.
El sector agua lo tengo cubierto con UU y, si algun dia se pone a tiro, SVT.
Aqua America Declares 7 Percent Dividend Increase (25/07/2019)
The Board of Directors of Aqua America (NYSE: WTR) declared a quarterly cash dividend of $0.2343 per share today, payable Sept. 1, 2019 to all shareholders of record on Aug. 16, 2019.
The September 2019 dividend will represent a $0.0153 increase, or 7.0 percent, compared to the $0.2190 cash dividend the company paid in June of this year. This marks the 29th dividend increase in the past 28 years, and the company has paid a consecutive quarterly cash dividend for more than 74 years. Following the increase, the annualized dividend rate will be $0.9372 per share. The board's stated long-term targeted dividend payout ratio continues to be in the range of 60 to 70 percent of earnings from operations.
Financial Results for Q2 2019 (06/08/2019)
Revenues for the quarter were $218.9 million, an increase of 3.3 percent compared to $211.9 million in the second quarter of 2018. Rates and surcharges and new customers from acquisitions and organic growth were the largest contributors to the increase.
Operations and maintenance expenses increased to $86.4 million for the second quarter of 2019 compared to $73.5 million in the second quarter of 2018. Charges related to the Peoples transaction increased expenses by $12.7 million. Excluding the impact of the Peoples transaction, operations and maintenance expenses would have been in line with the second quarter of 2018.
Net income for the second quarter 2019 was $54.9 million or $0.25 per share (GAAP). Net income decreased from the second quarter of 2018 net income of $66.6 million or $0.37 per share (GAAP) due primarily to Peoples transaction-related items of $11.9 million, net of tax.
Reaffirms 2019 Aqua standalone guidance highlights
Adjusted income per diluted common share of $1.45 to $1.50
Infrastructure investments of approximately $550 million in 2019 for communities served by Aqua
Infrastructure investments of approximately $1.4 billion through 2021 in existing operations to rehabilitate and strengthen systems
Rate base compound annual growth rate of 7 percent through 2021
Total customer growth of between 2 and 3 percent
Closing of Peoples acquisition expected in fall 2019