Results For 2019 Fourth Fiscal Quarter And Full Year (05/11/2019)
As reported, full fiscal year revenues of $17.290 billion increased 8.2 percent.
On a comparable, currency-neutral basis, revenues increased 5.1 percent for the full fiscal year.
As reported, full fiscal year diluted earnings per share of $3.89 increased 548.3 percent.
As adjusted, full fiscal year diluted earnings per share of $11.68 increased 6.1 percent, or 11.9 percent on a currency-neutral basis.
The company expects full fiscal year 2020 revenues to increase 4.0 to 4.5 percent as reported, or 5.0 to 5.5 percent on a currency-neutral basis.
As adjusted, the company expects full fiscal year 2020 diluted earnings per share to be between $12.50 and $12.65, resulting in growth of approximately 9.5 to 11.0 percent on a currency-neutral basis. This represents growth of approximately 7.0 to 8.5 percent including the estimated unfavorable impact of foreign currency. Adjusted diluted earnings per share guidance includes an adverse impact of approximately 500 basis points related to the expiration of the Gore royalty.
As reported, revenues of $4.225 billion increased 1.6 percent.
On a currency-neutral basis, revenues increased 2.5 percent.
As reported, diluted earnings per share of $0.87 decreased 57.6 percent.
As adjusted, diluted earnings per share of $2.65 decreased 1.9 percent, or 0.4 percent on a currency-neutral basis.
The company is lowering its full fiscal year 2020 revenue and adjusted diluted earnings per share guidance to reflect the impact of the remediation effort and anticipated loss of sales of the Alaris infusion system.
Se está llevando una guantada fina, cae más de un 12%
Lastima que la RPD siga siendo tan baja, 1 y poco, la empresa y su sector me gusta.
Aun le haria falta un par de arreones hacia abajo
Lleva unas semanas cayendo, se acerca a los mínimos de 52 semanas (más bien se aleja de los máximos, aún le queda un 10% para llegar a mínimos de 52s). 35 puntos en el CQSS del compañero ruindog.
Gran empresa pero a pesar de lo que ha bajado sigue teniendo un yield ridiculo
Se pone interesante. Como la veis?
Parece que están con algún problema legal:
+10% premarket. Otra que tira para arriba
Podria ser la oportunidad que siempre hablamos en este tipo de empresas, las que casi nunca bajan.
Parece que no es un empeoramiento de sus fundamentales sino un problema legal.
Mientras no le afecte excesivamente en sus cuentas, podria ser buen momento, pero de todas formas, a pesar de lo que ha bajado, a ojo mas o menos un 20% desde maximos, a mi no me parece que este precisamente barata.
Pero esto es una opinion mia, que no tengo ni idea, y es una empresa que me gusta
Me contradigo, debía ser fallo de Investing. Es una empresa que me gusta, pero de las que siempre están caras caras.
En la división médica venden muchos productos de poco valor añadido como agujas, jeringuillas, etc pero gracias a su red de distribución tienen el menor coste, sistemas para catéteres, suministro de medicamentos, detección de drogas…
En la división de ciencias de la vida tiene equipos de diagnóstico e identificación de reactivos para enfermedades infecciosas, de cultivos, recolleción de muestras, pruebas variadas…y está invertida en diagnóstico molecular y automatización.
En "Interventional" vende productos, la mayoría de un solo uso, utilizados en cirugía vascular, urología, oncología, etc. Son productos desechables o que se quedan implantados. La mayoría de esta división la forma la adquisición de C.R.Bard en diciembre 2017 empresa muy buena y de crecimiento, que pagó bien cara.
Si soy sincero, siendo generoso no entiendo la mitad de lo que hacen. Capitaliza algo más de 60 bns$ y últimamente se ha ido de compras. En 2015 CareFusion por 12,5 bns$ (tecnología médica con productos para gestión de medicación, prevención de infecciones, efectividad de procedimientos y sala de operaciones y cuidado respiratorio) y a finales de 2017 la citada C.R. Bard por 24 bns$. La cuenta de resultados dice poco porque tiene elevados gastos de reestructuración e integración de las compras. Como consecuencia de esta está endeudada, deuda neta/EBITDA x4,5 aproximadamente, pero sí es verdad que la está bajando rápido. Balance muy flojito, ya que aparte de la deuda pues el fondo de comercio es enorme. Como consecuencia de esto creo que es más adecuada valorarla por FCF
margen bruto 45%
margen FCF/ventas 13-14%
crecimiento ventas esperado >5%
crecimiento beneficio esperado >10%
Espera expansión de márgenes, y parece bastante posible a medida que disminuya costes de reestructuración y saque nuevos productos. Es empresa de crecimiento, sobre todo la parte de C.R. Bard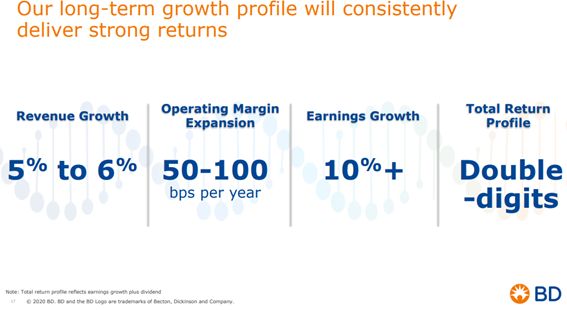 A 228$, de manera aproximada:
capitalización 62 bns$
deuda neta 16 bns$
EV 78 bns$
beneficio neto 2019 1 bns$ (lleno de no habituales)
beneficio neto ajustado por mi para 2019 3 bns$
FCF 2019 2,3 bns$, ajustado unos 3 bns$
Tenemos por tanto, con resultados ajustados:
PER 21
EV/FCF 26
Grosso modo, porque precisar es aun más imposible en esta con tanto movimiento, diría que está en un EV/FCF entre 25 y 30 veces. Mi opinión es que tiene por delante unos buenos años creciendo al 8-10% a nivel de beneficios. Está cara, las cosas como son, la cuestión es que a día de hoy todo está caro, y valorar si hay o no mejores oportunidades.
Saludos
Otra empresa que se suma a la moda de los spin-offs.
No supone mucho negocio para la empresa y se desprende de una parte que no le supone mucho valor añadido, hablamos de jeringas y pens para diabeticos, pero a tenor de la evolucion de la diabetes, in crescendo en pacientes, le supondria unos ingresos bastante regulares.
Centrarse en sus negocios mas importantes y tambien con muy buenas perspectivas de futuro, medicina intervencionista, puede ser positivo.
Spinoff aprobado y con fecha (1 de Abril)
Los spin off empiezan a necesitar urgentemente un hilo propio