Incremento del dividendo de Cardinal Health del 3%.
Caída de 9% tras anuncio de resultados.
Copio del mail de Sure Dividend.
Good morning,

Cardinal Health reported its 4th quarter and full fiscal 2017 results this morning:Q4 Adjusted EPS up 15% year-over-year
Fiscal 2017 Adjusted EPS up 3% year-over-year
15% EPS growth in the 4th quarter is an excellent result. Adjusted EPS growth of 3% for the fiscal year isn't spectacular, but isn't cause for alarm.

Despite strong results in Cardinal Health's most recent quarter, the stock price plunged (down 9.6% at the time of writing this email).

The reason for the decline is poor guidance for fiscal 2018. 2017 Adjusted EPS of $5.40
2018 Expected Adjusted EPS of $4.85 - $5.10
2019 Expected Adjusted EPS of $5.60
An earnings decline is never cause for celebration. In Cardinal Health's case, the company lists the vague 'discrete items' category as why earnings will be down.

Digging deeper, the company identified the 3 categories that discrete items fall into in its previous conference call:Tax and reserve adjustments
Compensation
Updating IT infrastructure for pharmaceutical distributions
The company has tried to cut a bit to far in the name of efficiency, and is having to move in the opposite direction. This is a situation similar to what Wal-Mart (WMT) dealt with over the last few years.

While a price decline is never fun, Cardinal Health remains a buy (more so now after the price decline) and solid long-term hold. The company should return to growth in fiscal 2019, and continue to regularly raise its dividend payments far into the future.

Disclosure: I am long CAH and WMT.
Pues después de esa caída a principios de agosto de 2017 parece que aún sigue cayendo más.
Empiezo a ver muy interesante invertir en esta empresa, ayer entré en CVS y creo que CAH también está dando las primeras señales de cambio, además del tema de los genéricos y los precios más bajos, creo que el miedo generalizado que hay a Amazon se ha sobreponderado en todos los sectores donde ha pegado (supermercados, moda…) y la distribución de medicamentos no ha sido una excepción.
Ha aguantado bien después de corregir el 61,8% de la subida que la llevó de los mínimos el día de Lehman Brothers a los máximos de 2015, y ha roto la última bajista acelerada:
Es una corrección enorme, tanto en tiempo como en precio, siendo bajista y aunque veo los primeros rayos de luz, no veo claras señales de recuperación pero creo que es otra dividend aristocrat dando oportunidades de compra para carteras diversificadas y cargando poco, seguramente me lance a por unas pocas. Cómo la véis?
Jvincen2, del blog de Chowder:
"There are five different areas in that field manufacturers, distributors, pharmacy, pharmacy benefit managers, and payers – insurance companies or Medicare/Medicaid.
It's the boomers of which I'm one some like CAH are looking at going forward and so for Cardinal Health it hinges on a fast-aging population driving U.S healthcare spending, especially on pharmaceuticals and medical supplies, much higher over the coming decade and beyond.
The U.S. healthcare sector is expected to grow 5.6% annually for the next decade, about double the rate of overall economic growth.
And the "pinch a penny" view I have of CAH is nothing new and been the norm for many years already. Will that penny need to get pinched even harder ? could be and as for the future time will tell but at some point it stops too or there is simply no one left to pinch anything. It's fine to reinvent the wheel so long as the wheel is still round and also has enough spokes left to work right.
Right now CAH sources more than 400,000 medical supplies and drugs from over 5,000 pharmaceutical and medical supply companies and as I said are involved daily in the majority of our hospitals and larger medical facilities.
People have no real idea what those supply chain logistics involve and seem to me to stay firmly focused to the pricing noise without taking into account the much bigger picture of it all and it certainly is a heck of a lot more complicated problem then simply saying you get to much for this or that and CAH is one who gets it right.
Some things below from SSD about CAH and I got the number worng the other day it's 88 but that's still a very safe SSD number. The first one reminds me of some others we have discussed over the years before where everyone says gosh almighty they better do something different then when they do they say what the heck did they do that for. Either way I plan to stick around awhile longer as SSD seems to think there are many moving parts going on here but none of them are screaming at you to leave, not yet anyways.
1.Management's plan to diversify into higher-margin medical equipment and wholesaling has its own risks but could return the company to solid high-single digit growth beyond 2019.
2.CAH has generated positive free cash flow in each of the last 10 years, which is a sign that CAH's business has consistently earned enough cash to cover its spending needs, giving CAH more flexibility to maintain its dividend over time.
3.Cardinal Health (CAH) has a Dividend Safety Score of 88, which means its dividend appears to be much safer than most other companies'. Here's what's working for and against the safety of CAH's dividend:
Over the past year, CAH has paid out 38% of its earnings as a dividend. This is a reasonably safe payout ratio for most companies and leaves CAH with cushion to pay the dividend should business conditions unexpectedly worsen.
According to analysts, CAH's payout ratio over the next year is expected to be 38%, which is fairly consistent with its level today and suggests the safety of the company's dividend won't change much in the near future.
And so far in 2019 ? in the first quarter ER they earned $1.29 and in the second quarter just announced they repeated those results and earned $1.29 once again and have now said they feel comfortable reaching the higher end of the previous guidance given. That makes three ER beats in a row and positive guidance for the entire 2019 FY. Is there a huge "pricing" iceberg coming up ? could be but think I will stick around and see if they can steer around it anyways. SQ likes CVS and in some ways CAH and CVS are tied at the hip when meds are involved."
Analyst Soo Romanoff says, "We are reassessing the pharmaceutical distribution segment in light of the evolving competitive and regulatory environment. Based on continued decline of pharmaceutical spend growth and external shock threats, we are lowering our moat ratings for AmerisourceBergen, Cardinal Health, and McKesson from wide to narrow with a negative moat trend. We are also reducing our fair value estimates.
"Despite the stable foothold in the oligopoly market, where the three companies handle 90% of the market, the role of pharmaceutical distributor continues to evolve in an increasingly competitive and highly regulated environment. Scale and regulatory requirements have provided insulation to maintain share and generate market returns, but competitive pressures continue to build with declining reimbursement, healthcare consolidation, and decline in overall pharmaceutical spending growth."
Fourth Quarter and Full Year Results for Fiscal Year 2019 (08/08/2019)
Fourth quarter revenue increased 6 percent to $37.4 billion, and full year revenue increased 6 percent to $145.5 billion
Fourth quarter GAAP1 operating earnings were $307 million, and non-GAAP operating earnings were $507 million
Fourth quarter GAAP diluted earnings per share were $0.65, and non-GAAP diluted earnings per share were $1.11
Full year GAAP operating earnings were $2.1 billion, and non-GAAP operating earnings were $2.4 billion
Full year GAAP diluted earnings per share were $4.53, and non-GAAP diluted earnings per share were $5.28
Outlook
The company's fiscal year 2020 guidance range for non-GAAP diluted earnings per share attributable to Cardinal Health, Inc. is $4.85 to $5.10.
Joder me ha saltado una compra que puse hace tiempo no pensaba yo que llegaría a este nivel… Bueno otra ariatocrata que no tenía en cartera a la saca…
First Quarter Results for Fiscal Year 2020 (07/11/2019)
Revenue increased 6 percent to $37.3 billion
GAAP(1) operating loss was $5.3 billion and included a $5.6 billion accrual related to opioid litigation, non-GAAP operating earnings increased 6 percent to $577 million
GAAP diluted loss per share was $16.65, and non-GAAP diluted EPS were $1.27
The company reaffirms its fiscal year 2020 guidance range for non-GAAP diluted earnings per share attributable to Cardinal Health, Inc. of $4.85 to $5.10.
Second Quarter Results for Fiscal Year 2020 (06/02/2020)
Revenue increased 5% to $39.7 billion
GAAP diluted EPS were $0.75, non-GAAP diluted EPS were $1.52
Company raises FY20 guidance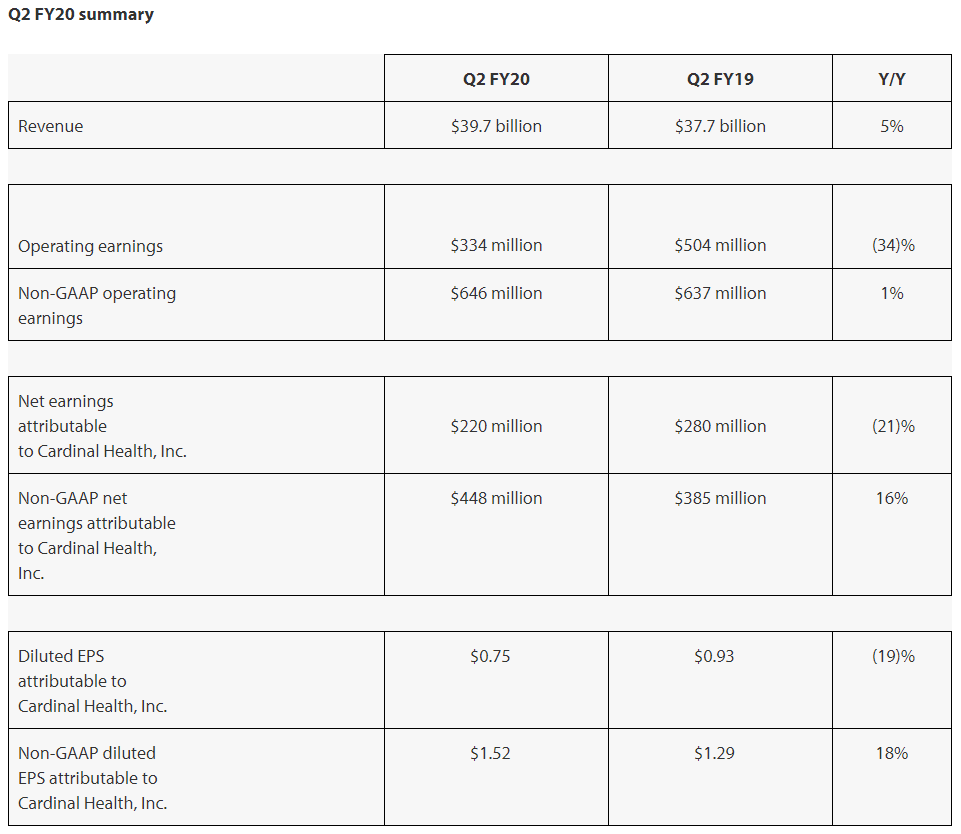 [ Cardinal Health, Inc. (CAH) ] reports first quarter of fiscal 2021 adjusted EPS of $1.51, a 6.8% decline from last year but $0.37 ahead of estimates. Revenue improved 4.6% to $39.1 billion, topping estimates $930 million.
Y sigue trimestre tras trimestre dando buenos resultados, a pesar de su valoración.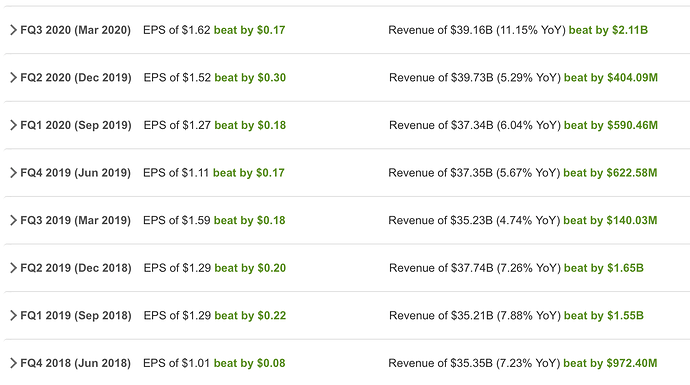 Tan malos han sido los resultados?
Cae a plomo, -10,20% cuando escribo esto… ¿sobrereacción del mercado o justificado?
Yo la estaba esperando a 47,7 $…Ahora habrá que estar atento a las noticias, porque la brusquedad de la caída y también el volumen de operaciones me deja un poco "mosca".