Al final sucumbiréis todos




Pero al MSCI World si que lo ha batido

A summary of some of the layoffs this year…
Twitter: cutting 50% of its workforce (estimated 3,700 jobs).
Facebook ($META): cutting 13% of its staff (11,000 jobs), its largest round of layoffs ever.
Snap ($SNAP): cutting 20% of its workforce (1,200 jobs).
Shopify ($SHOP): cutting 10% of its workforce (1,000 jobs).
Netflix ($NFLX): cut 450 jobs in two rounds of layoffs.
Microsoft ($MSFT): cutting <1% of workforce (1,000 jobs).
Salesforce ($CRM): cutting 1,000 jobs.
Robinhood ($HOOD): cutting 31% of its workforce.
Tesla ($TSLA): cutting 10% of its salaried workforce.
Lyft ($LYFT): cutting 13% of its workforce (700 jobs).
Redfin ($RDFN): cutting 13% of its workforce.
Coinbase ($COIN): cutting 18% of its workforce (1,100 jobs).
Stripe: cutting 14% of its workforce (1,000 jobs).
An addition to these cuts, Amazon ($AMZN) has announced a hiring freeze, Apple ($AAPL) has paused almost all hiring, and Google ($GOOGL) is reducing new hiring by 50%.
On the top of the list of leading indicators pointing to future economic weakness is the yield curve, which is now fully inverted.
The shortest maturity 1-month Treasury bill yield (3.93%) rose above the longest maturity 30-Year Treasury bond yield (3.89%) last week, a relatively rare occurrence.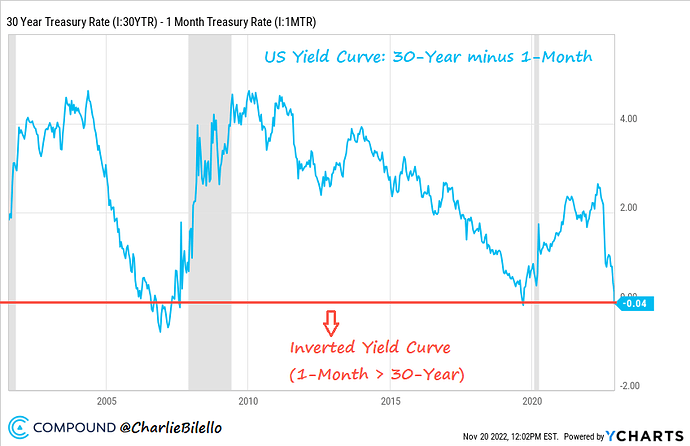 The last 2 times that happened?
-August – September 2019 (recession started in March 2020)
-August 2006 – August 2007 (recession started in January 2008).
In addition to the yield curve, many other leading indicators (housing, ISM new orders, stocks, etc.) are pointing to a weaker economy.
As a result, the 6-month growth rate in the Leading Economic Index fell further into negative territory in October and is at levels that have signaled a high probability of recession in the past (2020, 2008, and 2001).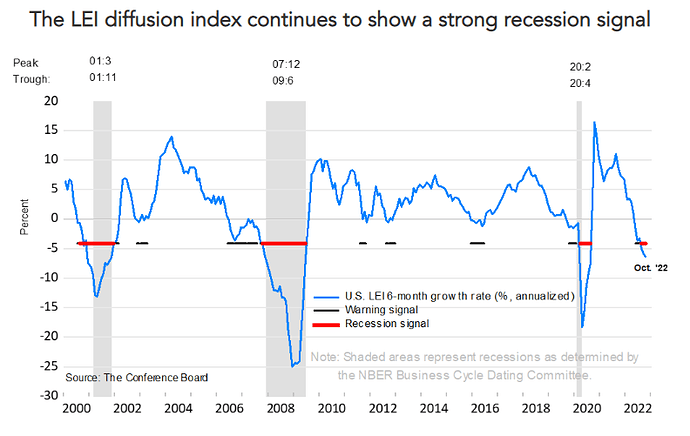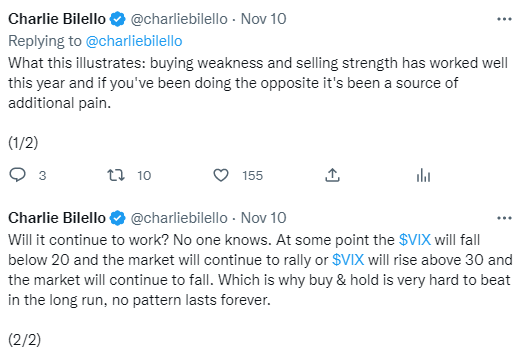 Where will the S&P 500 end 2023?
How about the 10-Year Yield?
Where is Crude Oil headed?
Is Gold or Bitcoin a better investment today?
How many more times will the Fed hike rates?
Will inflation move back down to its historical average?
When will the economy fall into an official recession?
I don't know the answer to any of these questions.
As Lao Tzu said, "those who have knowledge don't predict. Those who do predict don't have knowledge."
In 2023, I predict one thing and one thing only: you will see many more surprises. That is the nature of markets.
¿Sigue funcionando la inversión de curvas al salir de una época ZIRP?
Y más que habrá que esperar