Incremento fuerte dividendo minera BHP Billiton
RIO TINTO declara un dividendo final ordinario con cargo a resultados de 2020 de 3,09 dólares pagadero en abril (el del año pasado fue de 2,31 dólares, lo que supone un incremento del 33%). Además pagará un dividendo extraordinario de 0,93 dólares.
Fuente: página 16 del pdf de presentación de resultados:

Está claro que ahora toca disfrutar el momento dulce de la naturaleza cíclica de esta empresa minera.
Eso es un 1,85% de incremento…🥲 Pa eso me mato yo a comer chocolate?

Jodo, en serio? Pensaba que los supermercados se estirarian más tras este año. Vaya subida de m*****
En general las subidas están siendo escasas, salvo honrosas excepciones (TROW y otras, ole tú).
Por un lado prefiero esto que que suban un 25% el dividendo un año para recortarlo un 30% al siguiente
Tienes razon, pero hay unas cuantas honrosas excepciones que han subido dos digitos, y bastantes de las que estaban en dos digitos han hecho la subida de un digito alto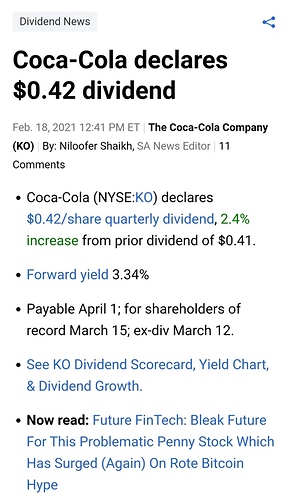 Otra del club del centimo (o centavo)
Esta no la sigue ni su madre pero
Moncler said it would pay a dividend of 0.45 euro per shares after scrapping it last year due to the health emergency.
Hablando de dividendos y de cocacola: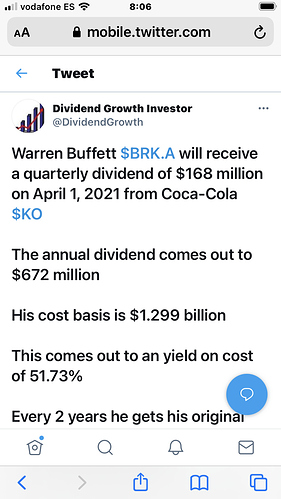 Lo malo es que aquí compramos SAN y TEF jajaja

Pero yo me pregunto. Qué resultado darán SAN y TEF en 30 años … no lo sabemos.
Unos fliparan y otros pensarán "madre mía si pagará impuestos por esos dividendos "

Pues como sigan así con un YOC cercano al 0%. Por poner un ejemplo, en TEF llevo con un YOC menor del que podría tener cualquiera que la compre en el mercado años y por bastante diferencia
Pues parece que Allianz congela y Danone recorta un 8%… Europeas tenían que ser …
Cojas el sector que cojas Europa es un drama comparado con Usa: danone, Bayer, TEF, bancos, no hablemos de tecnología que no tenemos…todas son un drama comparado con las americanas. Solo se salva el sector utility o más concretamente eléctricas.