Ahora entiendo la subida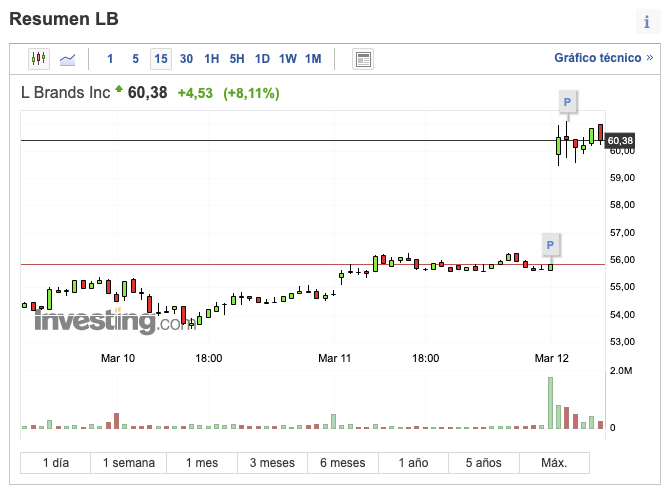 Más información en
L Brands Announces Actions to Drive Further Shareholder Value | L Brands Inc.
Vuelven a pagar en junio de este año



Projected dividend increases (quarterly):
The list of notable dividend increases anticipated to be announced next week includes
Masco (NYSE:MAS) to $0.235 from $0.14
Dollar General (NYSE:DG) to $0.40 from $0.36
CareTrust REIT (NASDAQ:CTRE) to $0.265 from $0.25
Equity Residential (NYSE:EQR) to $0.6375 from $0.6025
Independent Bank Corp (NASDAQ:INDB) to $0.48 from $0.46
Cousins Properties (NYSE:CUZ) to $0.31 from $0.30.
He mirado la web de Qualcomm y en marzo pagara 0.65$ o sea que el aumento a 0.68$ será para junio, si no me equivoco
Así es. "Payable after March 25, 2021"
W. P. Carey Inc. Increases Quarterly Dividend to $1.048 per Share
Thursday, March 11th the Board of Directors of W. P. Carey Inc. (WPC) announced a quarterly dividend increase of from $ 1.046 to $ 1.048 per share that's payable April 15, 2021 to holders of record March 31, 2021.
This represents a 0.77% increase year-over-year and 0.19% increase to the last quarter dividend.
W. P. Carey typically increases the dividend every three months.
DG aumenta su dividendo un 16,67% de 0,36 a 0,42, yield 0,9%
Se va a liar en Twitter


Projected dividend increases (quarterly):
The list of companies expected to increase their dividend payouts includes
Costco (NASDAQ:COST) to $0.75 from $0.70
AptarGroup (NYSE:ATR) to $0.38 from $0.36
Johnson & Johnson (NYSE:JNJ) to $1.06 from $1.01
Parker-Hannifin (NYSE:PH) to $0.91 from $0.88
Healthcare Services Group (NASDAQ:HCSG) to $0.2075 from $0.20625.
Hola @ruindog
los que estan en negrita eras los que estaban confirmados?
5% para JNJ… como decia Luis Aragones, es para estar contento pero sin presumir

Todas son predicciones de incrementos, no hay nada confirmado aún.
Las que aparecen en negrita están incluidas en el CQSS.
Enhorabuena a los premiados.
Oh my God!!, no me esperaba semejante aumento en mi acción más querida, jaja.
Gracias por alegrarme la noche, aunque como todo tiene su cara B, me queda mucho para completar posición