Gracias

Desde los 0,42 de este año, creo que supone un 5% de incremento.
De 1,3$ a 1,4$, aún lejos de los 2,1$ precovid pero comienza la senda del incremento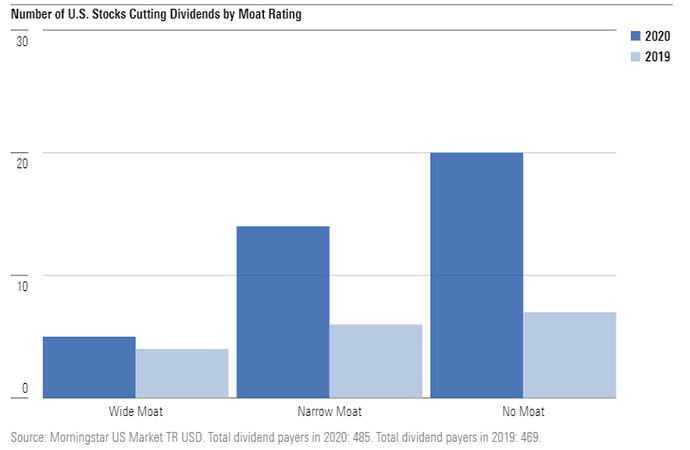 Financially healthy companies with sustainable competitive advantages were likeliest to maintain their dividends. Of the U.S. stocks that have Morningstar Economic Moat Ratings of wide, only five cut their payouts in 2020: Walt Disney DIS, Wells Fargo WFC, Boeing BA, Harley-Davidson HOG, and Blackbaud BLKB. Of those, three had deteriorating financial health scores: Boeing, Harley-Davidson, and Blackbaud.
High-quality, financially healthy companies aren't typically the highest yielders.
Projected dividend increases (quarterly): Companies expected to boost their payouts next week include
PNC Financial (NYSE:PNC) to $1.25 from $1.15
Walgreens Boots Alliance (WBA) to $0.4775 from $0.4675
Duke Energy (NYSE:DUK) to $0.985 from $0.965
Bank OZK (NASDAQ:OZK) to $0.2825 from $0.28
Cuando abro un mensaje de los tuyos en este hilo siento la misma sensación que cuando abría un sobre de cromos de pequeño.
Lo abro con la ilusión de ver si me sale alguno nuevo (equivalente a un incremento de dividendo), deseando que no haya repetidos (recortes)… una analogía algo pobre, pero vamos, que lo abro con ilusión

Los que hemos elegido la estrategia DGI, uno de los parámetros más importantes es ver aumentos de dividendos y eso nos motiva, por lo menos a mi si me pasa, yo me voy apuntando los aumentos de la cartera, también los recortes, para hacer un seguimiento.
Uno de los mayores placeres es cambiar el número previsto en el excel de seguimiento porque se ha anunciado un incremento del dividendo.
Jajaja vamos, lo que sería pegar el cromo nuevo en el álbum. A mí también me gusta.
Se abre la veda de dividendos para los bancos USA.


@ruindog haz tu magia xD
Vaya chorreo de subidas en la banca americana

Veo demasiado agresiva esta subida de dividendos por parte de los bancos americanos, los cuales se van a ver perjudicados (desde mi punto de vista), en los próximos 2 o 3 años , cuando empiecen a aumentar los préstamos dudosos y el estancamiento del crecimiento de los beneficios debido a la desaceleración de la economía americana.
Como está pasando en China, aunque ahí hablamos ya que el accionista principal es el propio estado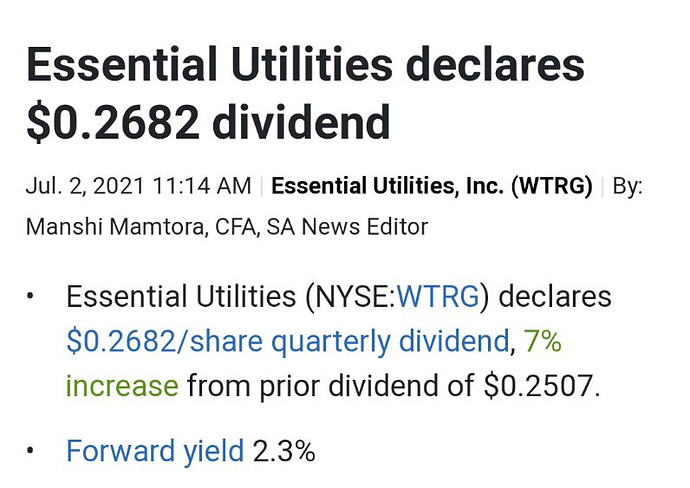 Buena noticia, lo simple, agua, parece que da buenos resultados

Estaría bien si llegara a cumplirse (en los últimos años los incrementos eran mucho más pequeños), ya que en su comunidado pone que no se comprometen
Esta declaración no es garantía de desempeño futuro, y los eventos o resultados reales pueden diferir materialmente de esta declaración.
Projected dividend increases (quarterly):
Companies expected to boost dividends next week start with the banks:
Morgan Stanley (MS) expected to double its dividend to $0.70 from $0.35;
Goldman Sachs (GS), raising to $2.00 from $1.25;
Bank of New York Mellon (NYSE:BK), to $0.34 from $0.31
State Street (STT), to $0.57 from $0.52.
Also expected to hike are
Ryder (NYSE:R), to $0.60 from $0.56
Stanley Black & Decker (NYSE:SWK), to $0.72 from $0.70
Walgreens Boots Alliance (NASDAQ:WBA), to $0.4775 from $0.4675