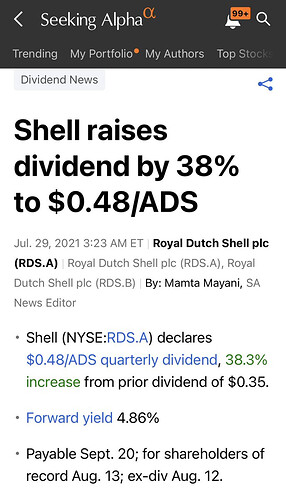 Vaya empresa, y de chuches



Creo que sera una opcion para mi hija
Projected dividend increases: Companies forecast to boost their dividend payouts next week include
Bonanza Creek (NYSE:BCEI) to $0.40 (annual) from $0.35
ResMed (NYSE:RMD) to $0.43 from $0.39
Cable One (NYSE:CABO) to $2.75 from $2.50
Standard Motor Products (NYSE:SMP) to $0.27 from $0.25
Illinois Tool Works (NYSE:ITW) to $1.23 from $1.14
Lleva aumentando los dividendos desde 1998.
Un chupito de Don Julio a la salud del foro Cazadividendos.
Sras y Sres demos la bienvenida a este selecto club a… Micron Technology. $0,10/Q (Menos da una piedra).
London Stock Exchange Group sube el dividendo un 7%:
Projected dividend increases:
Marten Transport (MRTN) to $0.05 from $0.04
Bonanza Creek (BCEI) to $0.40 from $0.35
Nordson (NDSN) to $0.43 from $0.39
Cable One (CABO) to $2.75 from $2.50
Steris (STE) to $0.43 from $0.40
Broadridge Financial Solutions (BR) to $0.61 from $0.575
Tyson Foods (TSN) to $0.47 from $0.445
Martin Marietta (MLM) to $0.60 from $0.57
Hemosio engañao…

Ha pasado que Tyson Foods ha dicho la frase del demo: "in line with previous."


Oooohhh

Un palo para el que la lleve.
Pierde por tanto la racha de años que lleve aumentando el dividendo?
(no sigo mucho la acción…)
Creo que en estas situaciones tendrá hasta el último trimestre del FY para subir 1 centimo que sea al dividendo, y mantener el status de 'Dividend Growth'… así que ahí sigue.
Pero vamos, no ilusiona…