A @miguel_angel_sanz le gusta esto.


Poca broma con los BDCs.
Pues si, me gustan todos los incrementos de dividendos de mis empresas, pero el de esta especialmente, es la que mas contribuye a mis dividendos anuales, y aunque sea nada mas el 2,4%, es una buena pasta.
La he buscado para añadirla en favoritos y no aparece en Degiro. ¿Tiene alguna particularidad ética esta empresa para que no salga? Vaya tela.
LVMH ha subido el interim dividend a 5€ para Diciembre (el año pasado fueron 3€).
En año natural (2022) estaríamos hablando de un dividendo anual de 12€. +20% con respecto a 2021 (10€).
Para el ejercicio 2022 estos 5€ serían los primeros y habrá que ver a que suben en 2023 los 7€ que han pagado este año en Abril. Así que ahora mismo por ejercicio en comparación con 2021 se colocan en un +66,6% con respecto a 2021 que fueron solo 3€.
In addition, on July 27, 2022, our Board of Directors voted to increase the quarterly dividend on Lazard's outstanding common stock by 6% to $0.50 per share. The dividend is payable on August 19, 2022, to stockholders of record on August 8, 2022.
Lazard +6%.
Se han recomprado casi el 5% de las acciones durante el Q2. Y en todo el H1 como un 9%.
Esto que dices de Diageo, ese 5% de aumento respecto a 2021, ya lo había declarado en enero de 2022, al menos así lo tengo yo apuntado.
En enero de este año declararon un dividendo de 0.2936GBP que era un 5% más que el de enero del 2021 (0.2796 GBP). Se ha dado la "casualidad" de que el global del 2022 (0.7618GBP) también es un 5% más que el del 2021 (0.7255GBP)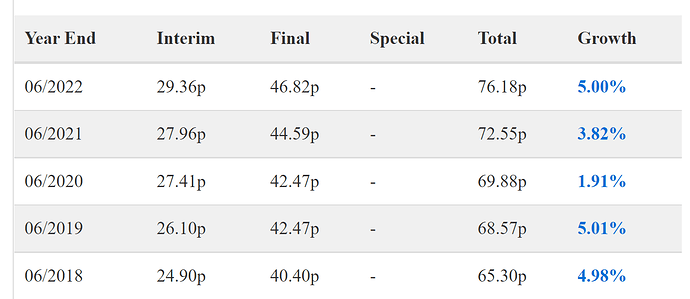 Astrazeneca (LON:AZN) aumenta el dividendo anual un 9.64%
2022: 2.217£
2021: 2.022£
Joe!, qué ganas tengo de que en este hilo salga alguna de mis empresas y que lo suba un ¿10%?, por pedir…