Tienen el otro pago para incrementarlo.
Con toda la inversión de D+ imagino que habrán preferido moverlo al segundo (y ahí decidir) para tener más flexibilidad.
Bristol-Myers Squibb declared an increase of 9.8% percent in the company's quarterly dividend, beginning in the first quarter of 2020. The dividend increase will result in a quarterly dividend of forty-five cents ($0.45) per share on the $.10 par value Common Stock of the corporation. The next quarterly dividend will be payable on February 3, 2020, to stockholders of record at the close of business on January 3, 2020.
Enbridge:
Enbridge announced today that its Board of Directors has declared a quarterly dividend of $0.81 per common share, payable on March 1, 2020 to shareholders of record on February 14, 2020. The declared dividend represents a 9.8 percent increase from the prior quarterly rate and the twenty-fifth consecutive year in which the Company has increased its common share dividend.
¿Hay algo mejor que abrir un anuncio de dividendo de SA y ver un porcentaje en verde? Sí, que ocurra tres veces el mismo día con acciones de tu cartera. Ayer, el ya comentado en su hilo de BEN, el infinitesimal de O y un 10% de AMGN.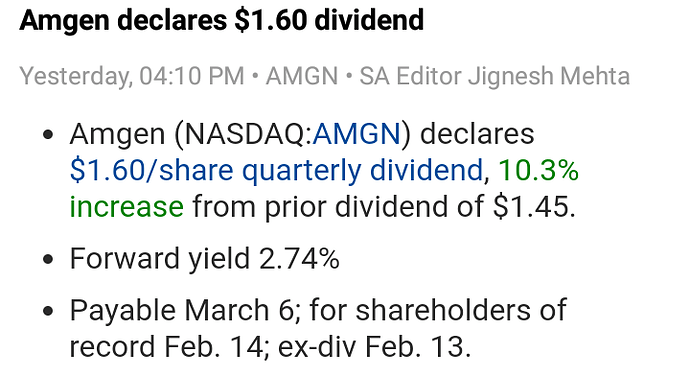 ABBOTT PARK, Ill., 13 de diciembre de 2019 / PRNewswire / - La junta directiva de Abbott (NYSE: ABT) aumentó hoy el dividendo trimestral común de la compañía a 36 centavos por acción, un aumento del 12.5%.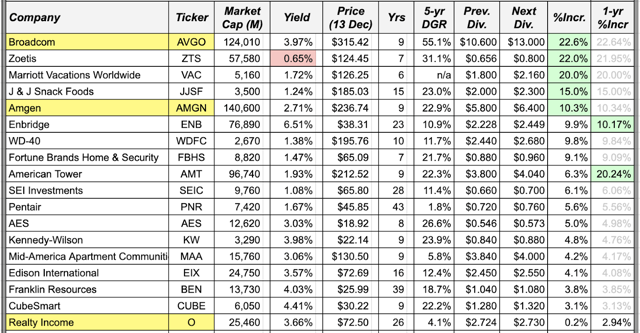 Antes Enagás y ahora Pfizer. Me gusta diciembre. Será la Navidad.
Pues justo he abierto esta mañana posicion en PFE.
Has venido como Papá Noel @Juanvi

Incrementos de dividendos
https://seekingalpha.com/article/4315323-summary-of-dividend-increases-in-q4-2019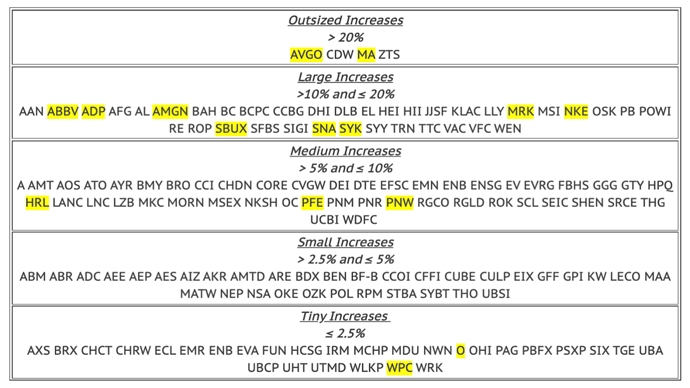 Las marcadas en amarillo son las que lleva el amigo DivGro
AVGO, tiene una muy buena pinta.
Lennar Corporation sube dividendo un 213%:
Lennar Corporation has increased its annual dividend by 213% to $0.50 per share from $0.16 per share, resulting in a quarterly cash dividend of $0.125 per share for both Class A and Class B common stock. The dividend is payable on February 7, 2020 to holders of record at the close of business on January 24, 2020.
Incrementos de dividendos en el 2019 de nuestro "amigo" FerdiS
https://seekingalpha.com/article/4316423-summary-of-dividend-increases-in-2019?app=1&isDirectRoadblock=true&utm_medium=email&utm_source=seeking_alpha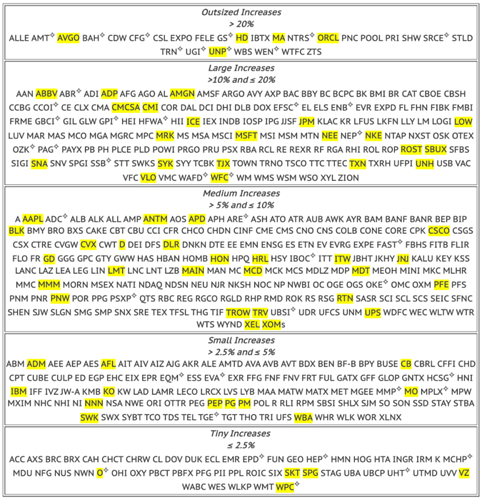 Aumentos de dividendos durante el año 2018 para comparar con mi mensaje anterior
https://seekingalpha.com/article/4230759-summary-of-dividend-increases-in-2018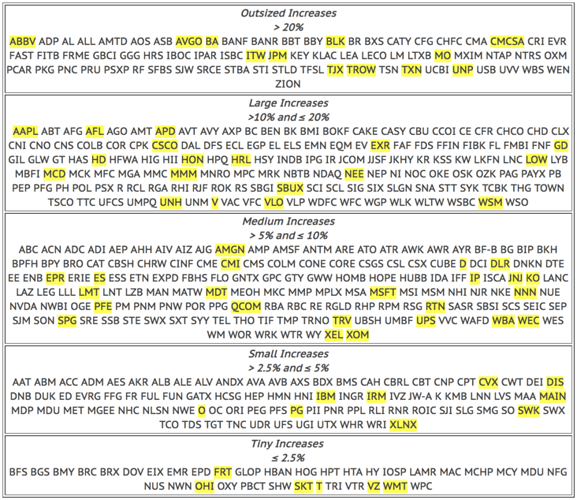 Incremento de dividendo de EPD del 2.3%