Incrementos de dividendos
https://seekingalpha.com/article/4315323-summary-of-dividend-increases-in-q4-2019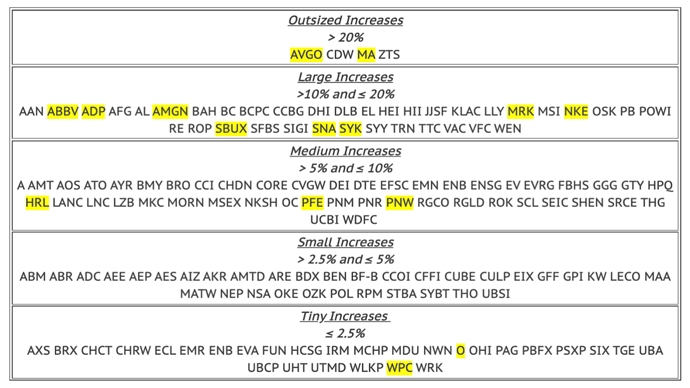 Las marcadas en amarillo son las que lleva el amigo DivGro
AVGO, tiene una muy buena pinta.
Lennar Corporation sube dividendo un 213%:
Lennar Corporation has increased its annual dividend by 213% to $0.50 per share from $0.16 per share, resulting in a quarterly cash dividend of $0.125 per share for both Class A and Class B common stock. The dividend is payable on February 7, 2020 to holders of record at the close of business on January 24, 2020.
Incrementos de dividendos en el 2019 de nuestro "amigo" FerdiS
https://seekingalpha.com/article/4316423-summary-of-dividend-increases-in-2019?app=1&isDirectRoadblock=true&utm_medium=email&utm_source=seeking_alpha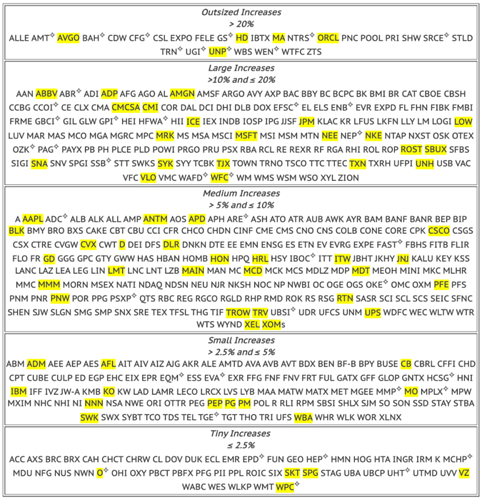 Aumentos de dividendos durante el año 2018 para comparar con mi mensaje anterior
https://seekingalpha.com/article/4230759-summary-of-dividend-increases-in-2018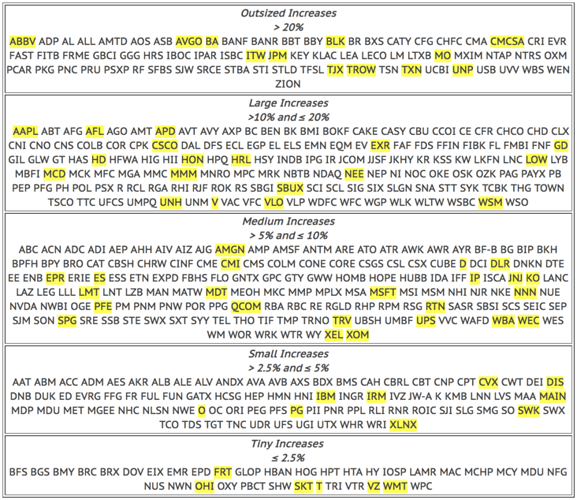 Incremento de dividendo de EPD del 2.3%
En línea con anteriores, sin embargo el mercado lo ha bendecido: +4,54%

Southern, SO, 0.62$, +0.0% Q/Q, +3.33% Y/Y.
https://seekingalpha.com/article/4317600-2019-annual-review-of-divgro
En 2019, las siguientes acciones de DivGro pagaron o anunciaron dividendos más altos.La tabla incluye el nuevo rendimiento del costo (YoC) para las posiciones que aún están en mi cartera.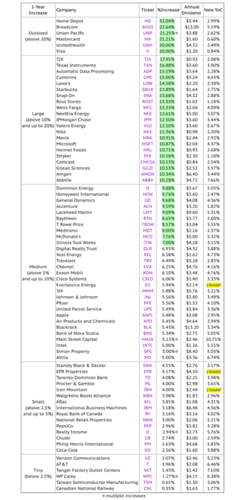 Con el anuncio del pago trimestral de 0,62$ por parte de Qualcomm, son ya 8 trimestres consecutivos sin variarlo.
Ya podrían estirarse un poco y subirlo algún céntimo por lo menos
Lo subiran en función de cómo acabe el recurso legal por el tema FTC.
Trump administration wants to argue at Qualcomm's FTC appeal
Mientras tanto a acumular. Si ese juicio le sale bien, ojo porque puede pegar otro tirón, como hace un año dió al cerrar el tema con apple.
Qcomm no es demasiado amigable con el accionista a la hora de pagar dividendo(o por lo menos últimamente),prefiere bonificar a sus ejecutivos y hacer fuertes recompras. No les costaría demasiado subir,aunque fuera poco el dividendo.Tienen buenas perspectivas de aumento de ingresos con 5G y, ya están en paz con Apple. Es un empresón,pero a mí me genera muchas dudas,si el divi no crece por muy buena q sea a mí no me vale.
Buen Domingo,cazadores.
Aumentos de dividendos del 01 al 17ENE20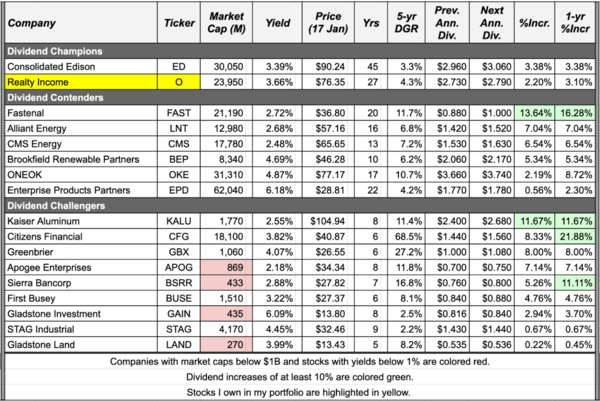 Kimberly Clark sube un 3,9%:
The Kimberly-Clark Board of Directors has approved a 3.9 percent increase in the quarterly dividend, which is the 48th consecutive annual increase in the dividend. The quarterly dividend will increase to $1.07 per share, up from $1.03 per share in 2019. The first dividend will be payable on April 2, 2020 to stockholders of record on March 6, 2020.
Incremento trimestral de 0.015$ (3.4%) confirmado. Si sigue con la costumbre de hacer el incremento trimestral de 0.015$. este año se plantará en un incremento anual del 14%.
Los incrementos trimestrales estan muy bien por que aceleran mucho el proceso, lo malo es que la empresa se la pegue