No es un MLP. Es una empresa normal y retienen en origen el 15%.
Second quarter 2019 results (31/07/2019)

Oneok increases quareterly dividend (23/08/2019)
The board of directors of ONEOK, Inc. (NYSE: OKE) today increased ONEOK's quarterly dividend 2.5 cents per share to 91.5 cents per share. This increase results in an annualized dividend of $3.66 per share.
The dividend is payable Nov. 14, 2019, to shareholders of record at the close of business Nov. 4, 2019.
Third quarter 2019 results (29/10/2019)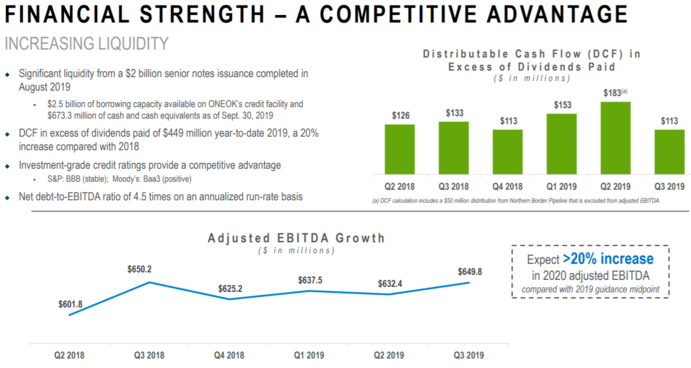 Fourht quarter and full year 2019 earnings (25/02/2020)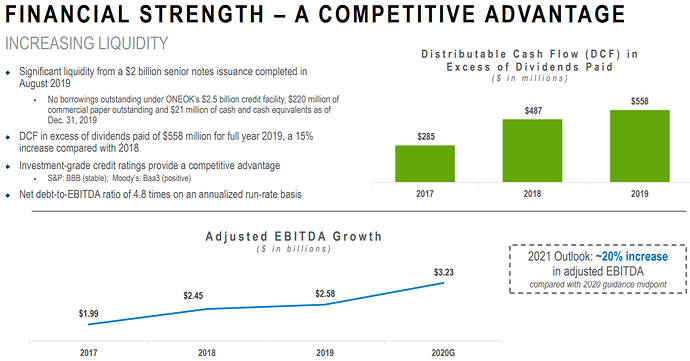 Han emitido acciones por algo más de 800 millones de USD. En su última presentación en Junio de este año proyectan un DCF de entre 1785 y 2185 millones de USD. Los dividendos en 2019 se llevaron 1457 millones de USD. Las nuevas acciones suman otros 97 millones de USD, y también lo han incrementado respecto a 2019, pero parece que incluso en el rango más bajo podrían llegar a cubrir el dividendo. Morningstar lo considera seguro, pero estos también la pifian. Véase el hilo de Dominion Energy.
The increase in share count will add about $97 million to Oneok's annual dividend payouts, which is also covered by existing liquidity and cash flows. We don't see a risk of any dividend cuts, as clearly this was an option at this stage to address credit rating agency concerns, and management chose to issue equity and debt in the earlier May transaction instead.
Cotiza a 32 USD, lejos de los mínimos del año de 12 y los máximos de 78 USD. La RPD supera el 10%, y esto debería despertar el sentido arácnido de cualquier inversor por dividendos al que no le gusten los recortes. Por otra parte Buffet y Munger anuncian la compra de la infraestructura de gas natural de Dominion Energy, y estos se caracterizan por comprar buenos negocios cuando están en rebajas. ¿Opiniones sobre Oneok? Usaré el comodín @vash, que la lleva en cartera y seguro que la tiene estudiada y mirada por los 4 costados…
Si M* la pifia, que son profesionales y es su trabajo, como no lo vamos a hacer nosotros
Tontería del día. ¿Trabajaba Charles Bronson en Oneok?
https://ir.oneok.com/investor-story/about-oneok
Mi mujer me dice que soy muy malo con los parecidos razonables, así que me tendréis que perdonar…

Por regla general las mujeres suelen tener una muy contrastada, y demoledoramente acertada, opinión acerca de las limitaciones de sus maridos




No jorobes. Pero si es calcao al Bronson…



Parece que Charles Bronson hizo su trabajo … al menos este trimestre
ONEOK also said it does not expect to change its dividend, since business is improving and production volumes are strengthening since May and June.
A ver si lo consiguen
We're reducing our fair value estimate to $41 per share from $48 after incorporating weaker-than-expected second-quarter results from Oneok into our model. The primarily culprit is the sharp volume drop in gathering and processing volumes in the Rocky Mountains and midcontinent regions, which fell 18%-20% from last year's levels due to production curtailments. Further, we recognize the additional uncertainty around the future of the Dakota Access Pipeline and related pipeline systems, a major source of oil volumes in the Bakken, where Oneok has some exposure. While we expect Oneok's volumes to recover in the second half of the year, the additional DAPL uncertainty plus the steeper-than-expected decline in gathering and processing volumes has reduced our full-year volumes estimate. As a result, we've lowered our 2020 EBITDA estimate to $2.6 billion from $2.75 billion. Despite the lower levels of EBITDA and recent share issuance, we still expect Oneok to be able to cover its $3.74 dividend payout with a coverage ratio of 1.14 times.
After a number of financial maneuvers during the quarter, including the issuance of 26 million shares, Oneok's financial health remains solid. Oneok has issued $3.25 billion in debt since March 2020 and raised just over $950 million via an equity issuance in June. The firm now has all of its $2.5 billion credit facility available, plus nearly $950 million in cash. Given it only has $300 million to $400 million in remaining 2020 capital spending, we believe Oneok has more than enough liquidity to fund capital expenditures over the next 18 months and dividend payouts with no issues. Both Moody's and S&P affirmed investment-grade ratings during the quarter.