Bueno, más que hablar parece que esta vez está haciendo la pelota.
Posiblemente… Creo que por el momento, Putin lleva un poco de ventaja
Poco despues del tweet de Trump
Y el petroleo +25% arriba
Ya veremos como acaba la cosa pero hay poca gente que pueda conseguir algo asi con un tweet
El crudo ha llegado al mínimo de 30dolares para que el negocio se haga sostenible no?
Interesante artículo en la vanguardia
The new OPEC+ deal envisaged all members reducing output by 23%, with Saudi Arabia and Russia each cutting 2.5 million bpd and Iraq cutting over 1 million bpd in May-June.
Riyadh and Moscow agreed that their cuts would both be calculated from an October 2018 baseline of 11 million bpd, even though Saudi supplies surged to 12.3 million bpd this April.
Under the plans, OPEC+ would ease cuts to 8 million bpd from July to December and relax them further to 6 million bpd between January 2021 and April 2022, OPEC+ documents showed.
UBS said the cuts were still not enough. "We still see Brent falling to $20 per barrel or lower in the second quarter of 2020," UBS said.
Crude Oil was the weekend's major development after OPEC+ agreed to cut production by a record 9.7 million barrels per day, but prices are mixed in volatile overnight trading on concerns that the cuts will not be enough to head off oversupply as the coronavirus hits demand.
The agreement is "too little and too late to avoid breaching storage capacity, ensuring that low oil prices force all producers to contribute to the market rebalancing," according to analysts at Goldman Sachs.
"It's simply too late to prevent a super-large inventory build of over one billion barrels between mid-March and late May and to stop spot prices from falling into single digits," says Ed Morse, Citi's global head of commodities.
But at least the deal allows the global oil industry and the national economies that depend on it to "avoid a very deep crisis," says IHS Markit's Daniel Yergin.
Lo estoy viendo en pantalla y me estoy preguntando si será un error. Dentro de poco no es que valga poco/nada es que a la que se descuiden tendrán que pagar por poseerlo.
Si la cifra es correcta, alucinante es poco.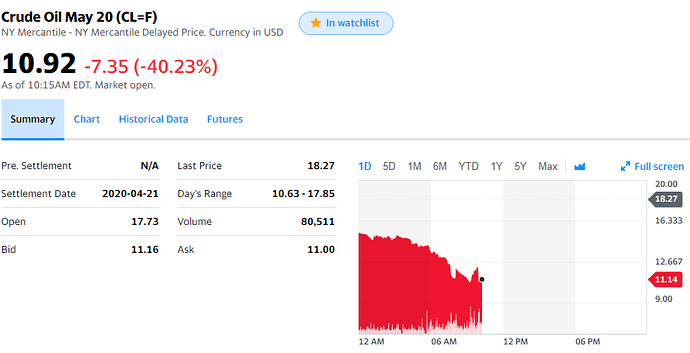 Un saludo.