Abro hilo sobre Warren Buffet para ir recopilando toda la información y noticias sobre él
Me gustaria pensar que mi patrimonio se multiplicara por 100 en el futuro pero no se yo …
Se equivocó eligiendo el mejor del sector al comprar American Express en lugar de Visa o MasterCard
Se equivocó al pensar que DIS perdía su moat.
Se equivocó eligiendo el mejor del sector al comprar KO en lugar de PEP.
Reincide una y otra vez con las aerolíneas.
Se equivocó tardando tanto en entrar en Apple
Y la lista podría seguir.
Y aún así probablemente ha sido el mejor.
Claro ejemplo de que se pueden cometer errores y aún así tener muy buen resultado (si estas muchos años).
Y un consuelo para los que cometemos errores sin parar jeje
Es un grande sin duda, pero prefiero mucho más a Charlie Munger, que esta en la sombra siempre porque no es tan fotogenico, ni buen comunicador?


o Ray Dalio, creo que se puede aprender mucho más, y no sólo de inversión, es mi opinión personal. Igualmente WB es todo un referente, desde luego.
Estamos en esa fase en la que la gente lee esta frase y le entra la risa. Ahora mas que nunca conviene recordarlo.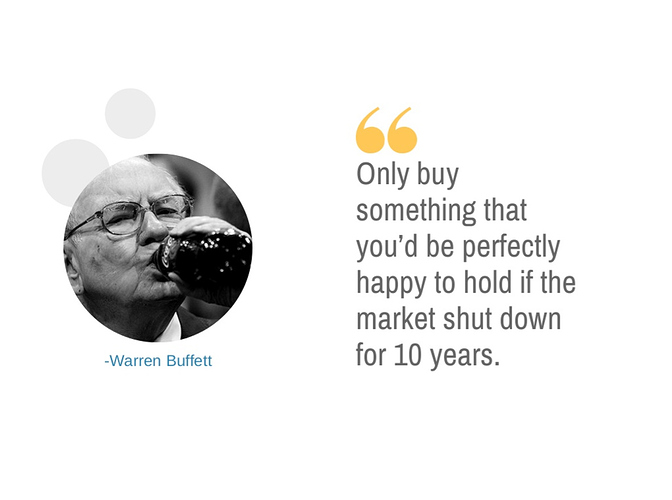 "Only buy something that will make you filthy rich over the next 10 days" Ruindog
"Only buy something that you'd be perfectly happy to sell in 10 minutes". Robinhooder
Buenos días, Buffett informa
… Dos importantes nuevas inversiones, revelando una participación de $ 8,6 mil millones en la compañía telefónica Verizon Communications y una participación de $ 4,1 mil millones en la compañía petrolera Chevron.
… Reducía su participación en Wells Fargo y se deshacía de JPMorgan Chase, M&T Bank y PNC Financial Services Group Inc…
Está el abuelo acabado o no? Por preocuparme ya que después de las japonesas la vez anterior, coincidimos ahora en varias compras…
De todas maneras, este y Cathie ya se podían quedar quietos un ratito. Si lo que está barato lo sube y la otra burbujea los sectores volátiles y compra todo lo que se mueve, nos complican el tema.
¿Le ha "disrumpido"?

Si se puede elegir mejor el morado, pero firmo un 10% anual con sangre (que creo que es lo que marca la gráfica)