multiplicar por 20 el número de acciones en cada compra y dividir por 20 el precio de compra.
Para Hacienda no valdría porque si vendes parcialmente, las plusvalías ya no seguirían el criterio FIFO correctamente. Si vendieras todo de golpe no habría diferencia entre los dos métodos pero yo prefiero siempre llevar las cuentas con el criterio de Hacienda / el correcto.
Hazlo como dice el compañero que lo ha indicado bien.
Perfecto, gracias.
Yo también prefiero llevarlo como lo pide Hacienda para evitar problemas y simplicar la Renta de ese año.
Amazon tiene claro que se nos viene un gran tsunami.
uno de los grandes problemas que arrastramos en el mundo es el de la cadena de suministro.
Pues bien, uno de los conceptos que barajan los teóricos expertos en la materia es compartir información acerca de la cadena de suministro para así poder identificar con más antelación los cuellos de botella. Esto es algo que es complicado de poner en marcha por la compartición de información que conlleva.
La novedad es que ha salido este consorcio de empresas entre las que están Amazon y Target.
El uso de alianzas concretas entre empresas es muy habitual, pero un efonque "opensource" enfocado en materia de datos es poco habitual.
Por otro lado hay que ver cuanto dura esta iniciativa y si de verdad se consolida.
Que está pasando hoy? Baja un 5% por la subida de precio del prime? O se está preparando para resultados…
Una pasada las cifras de crecimiento y márgenes que consigue AWS teniendo en cuenta el considerable volumen que ya tiene
estas son algunas de las notas que hay en el 10-Q de este pasado Q. Son relativas a avances en "innovative shopping":
Prime Student members get six months free of a LinkedIn Premium subscription.
Launched Virtual Try-On for Shoes
Customers in Lockeford, California, and College Station, Texas, will be among the first to receive Prime Air drone deliveries in the U.S. (no scheduled dates)
2 other Walk-Off Market stores opened.
12 Amazon Fresh stores opened
Amazon released its second Brand Protection Report, which details how the company safeguards customers, brands, and selling partners from counterfeit products. Amazon identified, seized, and appropriately disposed of more than 3 million counterfeit products, preventing them from harming customers or being resold elsewhere in the retail supply chain. In 2021, the company employed more than 12,000 people and invested more than $900 million to protect its store from counterfeit, fraud, and other forms of abuse so customers can continue to shop with confidence.
Amazon filed legal action against the administrators of more than 10,000 Facebook groups that attempt to orchestrate fake reviews on Amazon in exchange for money or free products.
Hay más secciones, pero esta es esta vez la que me pareció más interesante.
Este artículo habla de cosas sobre como Amazon Basis está matando otras marcas, pero yo con lo que me quedo es con que están reduciendo las unidades de ciertos productos, quizás, y solo quizás porque preveen bajada en el consumo.
A saber…
un mapa sobre el proceso de creación de productos en Amazon, que es un resumen del proceso explicado en el libro Working backwards,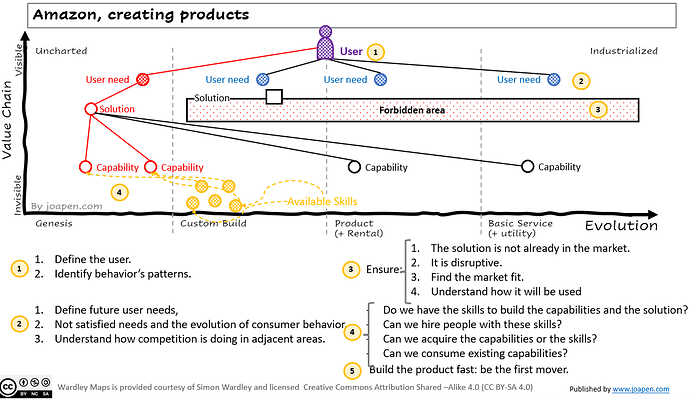 El texto con la explicación:
(M*)
Amazon reported disappointing third-quarter results and provided investors with soft fourth-quarter guidance, with the performance of AWS being our greatest near-term concern. This quarter stings, as this was supposed to be the quarter where Amazon had finally lapped pandemic-fueled issues. We continue to believe long-term growth driven by e-commerce proliferation, AWS, and advertising, but the near term is clouded by a variety of macroeconomic issues, including currency headwinds, high inflation, soaring energy costs, and deceleration in AWS. We can look through these issues but we believe they are likely to persist throughout 2023, which decreases our confidence over the medium term as well. We are lowering our growth and profitability assumptions, and in turn our fair value estimate drops to $150 per share, from $192 previously. Still, we are not ready to throw in the towel on Amazon and we see shares as attractive, but clearly the company has still not found stable footing on its path out of the pandemic.
Third-quarter revenue grew 15% year over year as reported, or 19% in constant currency, to $127.1 billion, compared with guidance of $125 billion to $130 billion. Currency continued to worsen throughout the quarter, which crimped revenue growth. From a retail perspective, online stores grew 7% year over year as reported, physical stores improved 10%, third-party seller services grew 18%, and subscription services increased 9%. Prime Day was held in the third quarter of 2022, compared with the second quarter in 2022, which resulted in an artificial 400 basis points of revenue growth for Amazon this quarter. The two most critical segments, AWS and advertising, grew 27% and 25% over the year-ago period, respectively. AWS enjoyed strong backlog growth, but was proactively helping customers manage cloud computing costs as the economy slows. Compared with our model, online stores, subscription services, and AWS drove the revenue miss.
Amazon sube los precios, este es un correo que me llegó esta mañana
Hello,
Route 53 is committed to acting in the best interests of our valued customers. We therefore wanted to provide you with early visibility into upcoming changes to domain registration pricing for Route 53 domains to help you make an informed decision regarding any impending domain renewals.
Starting December 21, 2022, pricing for the .com, .xyz, .biz and .mx Top Level Domains (TLDs) will be adjusted as shown in the following table:
.com: registration, renewal, and transfer price will increase from $12 to $13; no change to restore price
.xyz: registration, renewal, and transfer price will increase from $12 to $13; no change to restore price
.biz: registration, renewal, and transfer price will increase from $16 to $19; no change to restore price
.mx: registration, renewal, and transfer price will increase from $34 to $57; restore price will increase from $67 to $115
FAQ
Q: Why are the prices increasing?
A: The registries managing these TLDs have raised the wholesale prices which they charge to registrars. Route 53 is adjusting our retail pricing to account for this increase in cost that will be passed on to us.
Los despidos de Amazon afectarán a más de 18,000 trabajadores, la mayor cantidad en la ola tecnológica reciente
Los recortes centrados en el personal corporativo de la empresa superan la proyección anterior y representan alrededor del 5% de la fuerza laboral corporativa de la empresa.
Los despidos se concentran en las filas corporativas de la compañía y representan aproximadamente el 5% de ese elemento de su fuerza laboral y el 1,2% de su recuento general de 1,5 millones de empleados a partir de septiembre…
El nuevo servicio de medicamentos recetados de Amazon destaca la creciente amenaza para CVS
Si bien el nuevo servicio se parece a los esfuerzos farmacéuticos anteriores de [Amazon AMZN- 1,23%) (ticker: AMZN), también destaca un desafío creciente para las farmacias minoristas como [CVS Health ][CVS –1,35% (CVS) y aseguradoras como UnitedHealth Group (UNH) que plantean los servicios directos al consumidor que ofrecen medicamentos genéricos más baratos.
Por una tarifa mensual de $5, los miembros del servicio de suscripción Prime de Amazon ahora pueden recibir medicamentos recetados "ilimitados" de una lista de lo que Amazon dice que son tratamientos genéricos para "más de 80 afecciones de salud comunes". La membresía Prime cuesta $ 14.99 por mes…
Las acciones de CVS Health bajaron un 0,7%, mientras que las acciones de [Walgreens Boots Alliance (WBA) bajaron un 1,9%. El [S&P 500]) SPX –0.07% bajó un 0,5%…