https://chevroncorp.gcs-web.com/news-releases/news-release-details/chevron-reports-first-quarter-net-income-26-billion-0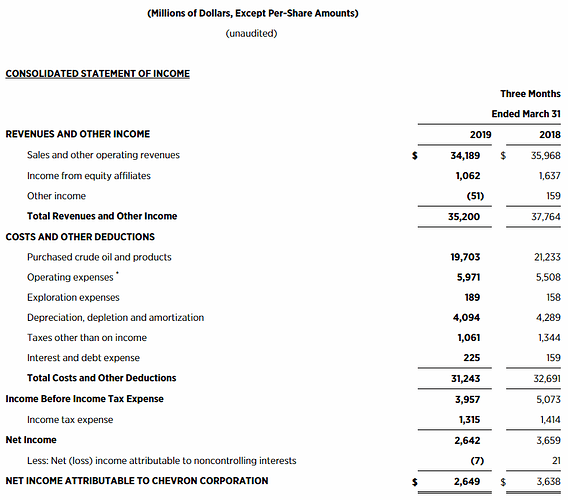 Occidental Petroleum Increases Bid For Anadarko Petroleum
Late last night, Anadarko Petroleum Corporation (APC) confirmed that it had received a revised proposal from Occidental Petroleum Corporation (OXY) under which Anadarko shareholders would receive $59.00 in cash and 0.2934 shares of Occidental common stock per share of Anadarko common stock.
The offer is noticeably different because (1) it delivers a higher proportion of the offer price in cash and (2) is eliminates the closing requirement of Occidental stockholder approval.
Previously, Anadarko had entered into a definitive merger agreement with Chevron Corporation (CVX) on April 11th, under which each Anadarko share would be swapped for $16.25 in cash and 0.3869 shares of Chevron common stock.
For comparative purposes, here is the price of each offer using stock prices prior to the market open on May 6th, 2019:

The offer from Occidental Petroleum is unquestionably more valuable for current APC shareholders. With that said, it is highly likely that Chevron submits a counteroffer for Anadarko, so this deal is far from a certainty at this point.
In addition, Anadarko seems to prefer Chevron as the acquirer based on their responsiveness to Occidental Petroleum's bids. In a letter sent to Anadarko's management team, Occidental's Chief Executive Officer Vicki Hollub wrote:
"We remain perplexed at your apparent resistance to obtaining far more value for Anadarko shareholders which has been expressed clearly through our interactions over the last week."
Mrs. Hollub has also objected to Anadarko's demands for three board seats as part of the deal.
In any case, the Anadarko Petroleum deal has the potential to be transformative for Occidental Petroleum Corporation. If the deal closes, it will trigger the following actions:
The issuance of $10 billion of 8% preferred stock to Warren Buffett's Berkshire Hathaway

The sale of Anadarko's assets in Africa to French oil giant Total SA (TOT) for $8.8 billion

Additional asset sales to bring the total to roughly $10 billion to $15 billion to decrease the added leverage on its balance sheet.
Many uncertainties remain surrounding Occidental's bid for Anadarko Petroleum. Accordingly, investors with interests in either organization should watch this story closely moving forward.
Chevron no subirá la oferta por Anadarko y reclamará 1B de Anadarko. Interesante lo que afirma el CEO:
"Winning in any environment doesn't mean winning at any cost. Cost and capital discipline always matter, and we will not dilute our returns or erode value for our shareholders for the sake of doing a deal," said Chevron's Chairman and CEO Michael Wirth.
https://seekingalpha.com/news/3461758-chevron-boost-offer-anadarko
Chevron Reports Second Quarter Results (02/08/2019)
Earnings of $4.3 billion ($2.27 per share - diluted) fo'r second quarter 2019, compared with $3.4 billion ($1.78 per share - diluted) in the second quarter of 2018. Included in the current quarter were earnings of $740 million associated with the Anadarko merger termination fee and a non-cash tax benefit of $180 million related to a reduction in the Alberta, Canada corporate income tax rate. Foreign currency effects increased earnings in the 2019 second quarter by $15 million.
Sales and other operating revenues in second quarter 2019 were $36 billion, compared to $40 billion in the year-ago period.
Third Quarter 2019 Results (01/11/2019)
Earnings of $2.6 billion ($1.36 per share - diluted) for third quarter 2019, compared with $4.0 billion ($2.11 per share - diluted) in the third quarter 2018. Included in the current quarter was a tax charge of $430 million related to a cash repatriation. Foreign currency effects increased earnings in the third quarter 2019 by $74 million.
Sales and other operating revenues in third quarter 2019 were $35 billion, compared to $42 billion in the year-ago period.
Clara candidata a acompañar a mis Xom y Rdsa.
Puede que no sea mala opcion, el precio del petroleo se ha ido hacia abajo, no sabemos lo que pasara de aqui al futuro.
En todo caso, entrar en CVX teniendo posiciones en otras petroleras estas diversificando el riesgo.
Ahora parece el momento de las petroleras. Ya llegara el de las utilities otra vez.
¡CVX protegiendo el dividendo!
OCU 18/03/2021
Chevron prevé un aumento anual de la liquidez después de inversiones del 10% hasta 2025, si el barril de petróleo se mantiene por encima de los 50 USD. Dos factores explican este crecimiento. Por un lado, revisa al alza las sinergias esperadas de la adquisición en 2020 de su competidor Noble. Por otro, confirma el mantenimiento de sus inversiones entre 14.000 y 16.000 millones de dólares.
Chevron también prevé un aumento de la producción diaria de hidrocarburos de los 3 millones de barriles en 2020 a 3,5 en 2025. Un aumento notable, frente al recorte de la producción de rivales como BP o el mantenimiento de Exxon.
Sin una recaída en el precio del petróleo, nosotros estimamos una liquidez anual después de inversiones de algo menos de 17.000 millones de dólares en comparación con los 10.000 millones destinados a dividendos. Chevron tendría margen pues para aumentar aún más su dividendo o recomprar acciones propias, aunque al precio actual la cotización creemos que ya recoge estas buenas noticias.
La petrolera estadounidense Chevron anunció este viernes que durante el primer trimestre de 2021 tuvo unas ganancias netas de 1.398 millones de dólares (unos 1.160 millones de euros), un 61 % menos respecto al mismo tramo del ejercicio anterior, por un menor volumen de negocio debido a la pandemia y por la tormenta invernal que azotó el sur de EEUU en febrero.
https://www.expansion.com/empresas/energia/2021/04/30/608c09b3e5fdeab1168b46ee.html