Abro hilo con los resultados del 1er Q de 2019:

Lleva más de 60 años incrementando dividendo pero en los últimos años el crecimiento del mismo es del 1-2%: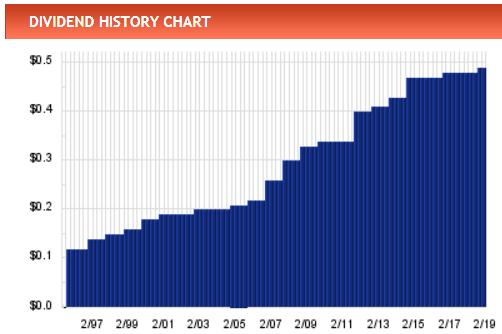 Seguramente, en periodos bajistas largos, de años, q haya empresas q lleven subiendo 60 años el dividendo auqn sea nada mas un 2% nos vendra muy bien, yo quiero llevar unas cuantas de estas.
Lo ideal es tener muchos años una empresa de este tipo con un yoc ya lo suficientemente alto como para cuando lleven tantos años repartiendo dividendo ese 1%-2% nos sepa a gloria.
Third Quarter 2019 Results (06/08/2019)
Net sales of $4.7 billion increased 5 percent, or 2 percent on an underlying basis
GAAP earnings per share were $0.97, down 13 percent versus prior year, and were $0.94, up 7 percent, excluding discrete tax benefits in both years
Operating cash flow was $946 million; Free cash flow was $825 million, reflecting net earnings conversion of 135 percent
$1.9 billion returned to shareholders year-to-date, including $1 billion of share repurchases
Targeting additional $250 million share repurchases in fiscal 2019
Maintained 2019 EPS guidance range of $3.60 to $3.70
Fourth Quarter and Full Year 2019 Results (05/11/2019)
Fourth quarter net sales of $5.0 billion increased 2 percent; underlying sales up 3 percent
Fourth quarter EPS of $1.16 and full year $3.71 included discrete tax benefits of $0.09 and $0.14, respectively
Fourth quarter operating cash flow of $1.2 billion, up 18 percent
Full year operating cash flow of $3.0 billion; Free cash flow of $2.4 billion, net earnings conversion of 105 percent
Returned $2.5 billion to shareholders, over 80 percent of full year operating cash flow, through dividends and share repurchases
Dividends as a percent of free cash flow improved by 4 points to 50 percent in 2019
Completed 63 consecutive years of increased dividends per share and plan to announce a 4-cent increase for 2020
2020 Outlook
Net sales down 3 percent to up 1 percent and underlying sales down 2 percent to up 2 percent.