Abrimos hilo para debatir sobre empresas australianas
Esta información la saqué de Sure Dividend hace tres años más o menos. Me suena que Telstra y BHP Billiton has recortado el dividendo desde entonces. Quizás os sirva
The ASX20 holds Australia's 20 largest publicly traded corporations. Of these 20 corporations, US investors are likely only familiar with RIO Tinto Limited (RIO), BHP Billiton (BHP), and Westpac Banking (WBK in US markets). The Full List of companies in the ASX20 is below, including years of dividend payments without a reduction (excluding effects of spin-offs and special dividends).
| Name | Ticker | Sector | Dividend Streak (yrs) |
| --- | --- | --- | --- |
| AMP Limited | AMP | Finance | 1 |
| Aus. & N.Z. Banking Group | ANZ | Finance | 6 |
| BHP Billiton Limited | BHP | Basic Materials | 25 |
| Brambles Limited | BXB | Services | 5 |
| Commonwealth Bank of Aus. | CBA | Finance | 6 |
| CSL Limited | CSL | Health Care | 6 |
| Insurance Australia Group | IAG | Finance | 3 |
| Macquarie Group Limited | MQG | Finance | 3 |
| National Australia Bank | NAB | Finance | 6 |
| Origin Energy Limited | ORG | Utilities | 14 |
| QBE Insurance Limited | QBE | Finance | 0 |
| RIO Tinto Limited | RIO | Basic Materials | 6 |
| Scentre Group | SCG | Finance | 4 |
| Suncorp Group Limited | SUN | Finance | 5 |
| Telstra Corporation | TLS | Technology | 15 |
| Westpac Banking | WBC | Finance | 6 |
| Wesfarmers Limited | WES | Services | 6 |
| Westfield Corporation | WFD | Finance | 4 |
| Woolworths Limited | WOW | Services | 21 |
| Woodside Petroleum | WPL | Basic Materials | 5 |
¿Alguien le ha echado un ojo a las aseguradoras australianas cuya cotización "se ha ido a pique" después una temporada aciaga de desastres naturales (incendios, tormentas de granizo…)?
No encajan estrictamente en la filosofía DGI (sus dividendos fluctúan bastante de un año a otro) pero por otro lado muchas de ellas son fully-franked (sin retención en el origen).
Suncorp Group. Ltd (ASX:SUN) tiene un yield del 5,80% e Insurance Australia Group Ltd. del 4,70%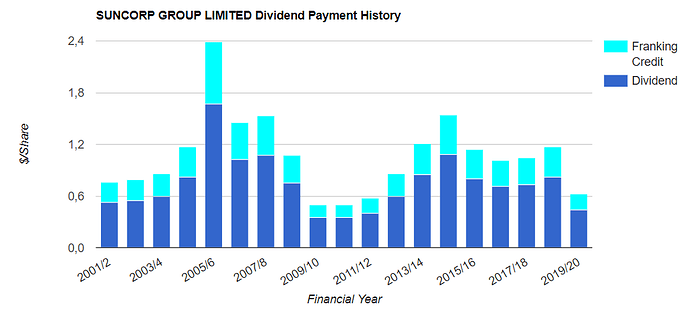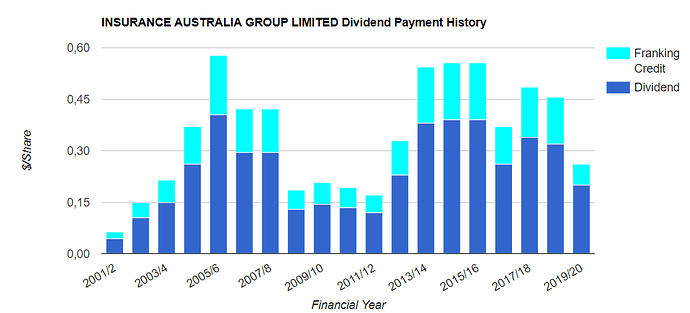 Solo un par de apuntes. Westpac Banking (ASX:WBC) recortó el dividendo el año pasado y CSL fue la empresa del ASX 20 cuya cotización más subió en el 2019

Llevaban varios años repartiendo 1.88$ de dividendo (dos pagos de 0.94$).
En Diciembre pasado solo abonaron 0.80$
Westpac, whose net profit slipped 16% to $6.78bn in the year to 30 September, cut its final dividend from 94 cents to a fully franked 80 cents after what chief executive Brian Hartzer said was a disappointing 12 months.
The last time Westpac cut its dividend was at the end of the 2009 financial year, when the financial sector was reeling from the global financial crisis.
"This decision was not easy as we know many of our shareholders rely on our dividends for income," the bank said in a statement on Monday.
interesante articulo sobre empresas aristócratas de dividendos australianas.
CSL is one of Australia's most successful companies. Originally a government-owned and run entity, CSL was privatised and listed on the ASX in 1994. Corrected for share price splits, the IPO price was 76.7c per share, compared to the current share price of $326 it is fair to say that many people have made a lot of money from CSL.

Indagando un poco sobre el sector defensivo australiano me he encontrado con Treasury Wine Estate (ASX:TWE), que no pinta nada mal.
http://tools.morningstar.co.uk/uk/util/documentproxy.aspx?key=EquityQuant&secId=0P0000T2V0
Hace unos días llegó a tener las 5 estrellas de M*, está por debajo del FV actual, márgenes crecientes, yield de 3,76%, crecimiento del dividendo en los últimos 5 años de más del 20% y además está entre las primeras 5 productoras de vino del mundo. Es verdad que no tiene moat, pero pasando este detalle, de un primer vistazo la veo muy interesante.
Además mi predilección por los vinos de Oceanía me añade un interés subjetivo del que me cuesta deshacerme.
impresionante lo de esta empresa, la estoy siguiendo desde hace 3 y no hay forma de pillarla
Buena leche se ha dado hoy.
Hola,
Tras indagar un poco, a parte de sector asegurador (SUN, QBE, IAG), bancos (WBC, ANZ), utilities (APA) o telecos (tls) como clásicas me he encontrado con varias interesantes:
TWE: consumer staples, ya comentada más arriba y que podría estar dando oportunidad de entrada.
TCL: industrial/infrastructura, podría ser nuestra abertis (también con presencia en Canada y USA).
WES: gran conglomerado (tras lo visto en GE no sé si es positivo), con buenos números, en máximos históricos.
WOW: un grupo minorista australiano que opera principalmente en el sector de los supermercados.
También me plantearía entrar en APA o SUN. Los bancos me dan demasiado respeto.
Es curioso, o no, la mala evolución también de la mayor teleco (TLS) con un dividendo que no parece sostenible.
Me estoy planteando tener entre un 5-10% de acciones australianas en cartera. No hay prisa.
Saludos.
Pues seguimos indagando en el mercado australiano.
Me he encontrado con tres compañías que tienen como objetivo invertir en una cartera diversificada de acciones australianas a medio y largo plazo, centrándose en empresas que tienen el potencial de proporcionar un flujo creciente de ingresos y revalorización del capital.
Fuente: https://www.capitalisticman.com/an-introduction-to-australian-listed-investment-companies-lics/
Lo interesante, obviamente, es que invirtiendo en una de estas acciones, te permite estar invertido en Australia y diversificado, a modo de fondos de inversión o etf.
Como características comunes tienen una baja capitalización, poco volumen y pagan unos dividendos "franked" 100%.
Australian United Investment Company Limited (AUI:ASX):
Capitalización: 1,03bn
Volumen medio acciones: 22k (porcentaje importante de acciones en manos de institucionales).
Div yield: 4,4%. 25 años incrementando dividendo a una media de 6,3%
Inversión 100% en Australia y 25% en bancos.
Cotización actual: 8,01 (rango 52 semanas: 6,42-10,41)
Diversified United Investment Limited (DUI:ASX)
Capitalización: 900,55m
Volumen medio acciones: 66k (porcentaje importante de acciones en manos de institucionales).
Div yield: 3,73%. 25 años incrementando dividendo a una media de 6,6%
Tiene un % de inversión internacional de un 15% aproximadamente y 21% en bancos.
Cotización actual: 4,15 (rango 52 semanas: 3,15-5,28).
Argo Investments (ARG:ASX)
Capitalización: 5,4,bn
Volumen medio acciones: 250k (porcentaje de acciones en manos de institucionales menor que en las anteriores).
Div yield: 4%. 20 años incrementando dividendo a una media de 4%
Inversión 100% en Australia y 17% en bancos.
Cotización actual: 7,48 (rango 52 semanas: 5,44-9,11).
La de mayor capitalización (7,6 bn): Australian Foundation Investment Company Limited (ASX: AFI), similar a ARG, la he descartado por su 25% de inversión en bancos.
El % de revalorización en los últimos diez años es muy similar entre ARG y AUI (un 30% aproximadamente) y de un 55% en DUI (probablemente por su exposición internacional).
También el mayor incremento de dividendos de AUI o DUI respecto a ARG podría estar en relación a su mayor exposición al sector bancario que, no obstante, probablemente sufrirá en el medio plazo.
Siendo ARG la de menor exposición a bancos y mayor capitalización, probablemente sería por la opción que elegiría. La exposición internación de DUI tampoco me interesa.
Saludos.