Abro hilo para esta empresa aprovechando la presentación de resultados:
Resultados del primer trimestre de 2019:

Incrementa el dividendo un 5.6%.
Un incremento más para la trayectoria de dividendos inmaculada de Flowers Foods desde 2006. Ya son 13 años incrementándolo de manera ininterrumpida.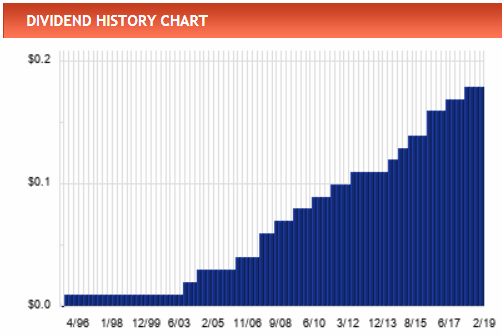 Second Quarter 2019 Results (07/08/2019)
Second Quarter Summary compared to the prior year second quarter where applicable
Sales increased 3.7% to $975.8 million; net sales increased 1.8% excluding the acquisition of Canyon Bakehouse .
Diluted EPS increased $0.04 to $0.25.
Adjusted diluted EPS(1) was unchanged at $0.25.
Revised Guidance for the 52-week fiscal 2019 the company expects
Sales in the range of approximately $4.030 billion to $4.109 billion, representing growth of approximately 2.0% to 4.0%.
Adjusted diluted EPS in the range of approximately $0.94 to $0.99, adjusted for items affecting comparability.