Es Suiza, ¿no? ¿La movemos a la categoría de Suiza?
Las mineras despues de lo de BHP las tengo olvidadas. Pueden ser validas para un tiempo pero creo q no para 20 años, al menos para mi.
La verdad es que despista bastante porque, aun siendo suiza, cotiza en Londres y lo más importante y diferencial respecto a las suizas: la retención por dividendos es 0%.
Creo que es porque está domiciliada en JERSEY, como se ve en el ISIN: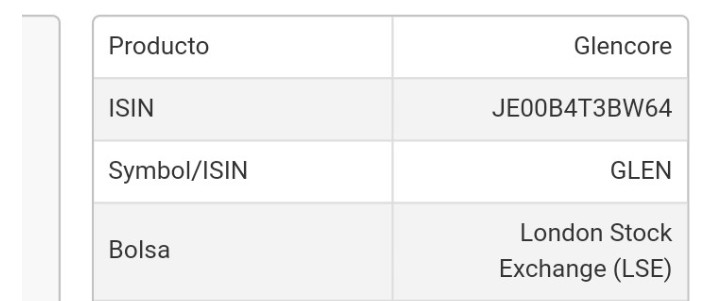 Yo las mineras bien lejos. Se las dejo todas al gallego aquel del podcast y a los de AZValor.
Sólo por el hecho que deben de lidiar con regulaciones de paises bananeros debería ser motivo más que suficiente para mantenerse alejados de ellas.
¿Cuantas mineras son dividend champions o aristocrats?
Estas son para comprar bien entrados en la próxima recesión, cuando hayan recortado dividendo, y sean unas apestadas que nadie quiera. Me refiero a RIO o BHP, quizás también Glencore. Mineras de oro, cameco y demás ya son otra cosa. Para los más valientes. Yo paso.
https://seekingalpha.com/article/4288694-glencore-looking-tax-free-7_4-percent-dividend-yield
Me gusto el analisis del articulo, temas de Materias primas, el acceso al cobalto.
Luego está claro que la ponen como eje del mal de la minería (reputación pésima).
Pero hay que ver que % ,mercado controla…
" Glencore controla el 50%cobre, el 60 %zinc, el 38 %alúmina, el 28 %carbón para centrales térmicas, el 45 %plomo. Oil, gas.
En alimentos básicos controla casi el 10 % de trigo del mundo, 25%cebada, girasol y colza…entrando en el de oliva. Glencore posee cerca de 300.000 hectáreas de tierras de cultivo siendo uno de los mayores productores del mundo de grano.
Oleaginosas, algodón, azúcar, arroz, cebada, maíz, trigo y también en el área de biodiésel
La cuasi quiebra por todas las adquisiciones de 2015 podría dar frutos a m/p.
También el tema de que se negocian en pences
"Applying the current GBP/USD exchange rate of 1.225, the US$0.20 dividend represents approximately 16.3 pence per share, for a tax-free dividend yield of almost 7.5%".
Es solo lectura, de momento (veremos tambien su volatilidad con el Brexit).
De M*
La negrita es mía.
Business Strategy and Outlook | by Mathew Hodge Updated Apr 15, 2019
Glencore ranks among the most diversified of the large global miners. But because China is the key demand driver for nearly everything Glencore digs out of the ground, diversification benefits are limited. Weaker Chinese GDP growth and the end of the investment-led economic model portend tepid demand and lower prices for most of Glencore's industrial commodities. Glencore's oil and agriculture businesses are less China-centric but smaller. Glencore's marketing business (about one fourth of forecast group EBITDA) should be relatively resilient as China slows.
The mining business generates roughly three fourths of group EBITDA. Glencore mines and produces a broad suite of commodities, but of the industrial's group EBITDA, approximately 30% comes from copper, 30% from coal and 20% from zinc. The remaining 20% of forecast EBITDA is from nickel and ferroalloys with oil a small contributor.
China is the world's largest consumer of copper and coal and has accounted for nearly all global demand growth in the past decade. With weaker Chinese demand growth set to pressure copper and coal prices, profits will be far harder to come by than in the past. Production growth is unlikely to be an offset, given our expectation for weak demand. Glencore has been rightfully more reticent than peers when it comes to large, capital-intensive greenfield growth projects, but has been an active acquirer of assets.
Glencore's marketing business is less sensitive than its mining business to the direction of commodity prices, as basic supply-chain activities and arbitrage opportunities account for a good deal of profits. That said, it's not immune from cyclical swings. Marketing profits fell sharply in the financial crisis as commodity demand dropped, prices plunged, and credit markets dried up. However, profits have subsequently recovered an in 2017 were at record levels, despite the sale of 50% of the firm's agricultural marketing business. The acquisition of Xstrata's mining operations added more nodes to the firm's trading network, affording greater opportunities to arbitrage price discrepancies stemming from time, geography, and product differences.
Economic Moat | by Mathew HodgeUpdated Apr 15, 2019
Glencore lacks a moat. While we think the company's commodities trading and marketing operations would be worthy of a narrow moat on their own, based on cost advantage, Glencore's mining assets on average are not moat worthy. Subpar returns from mining are sufficient to drag returns for the group below the cost of capital.
The company's trading and marketing assets derive a competitive advantage from the global network of trading and logistics assets. The firm can take advantage of arbitrage opportunities (temporal, geographic or product-based) that smaller or geographically concentrated traders can't. The firm may also enjoy an edge over customers, either buyers or sellers, through a greater understanding of small pricing discrepancies between geographies, time and commodities with similar specification. While margins are slim, the business is relatively asset light and asset turnover is high.
For a mining firm to enjoy a cost advantage, the company must have low total costs–both capital and operating. Glencore's upstream assets are not especially low cost. EBITDA margins for the five years ended 2017 averaged 24% versus a simple average of 33% for a peer group including BHP, Rio Tinto, Fortescue, Anglo American, Vale, and Teck Resources. For the five years ended 2023, we forecast Glencore's EBITDA margins to average 25%. However, relative to the peer group, we don't expect any material change in Glencore's competitive position.
The lack of a cost advantage reflects in historical returns for the mining segment. We estimate return on invested capital for the five years ended 2018 averaged 6.3%. For the forecast period we expect the average return on invested capital to be similar.