Las que aparecen en negrita son las empresas incluidas en CQSS.
D.H. Horton sube dividendo un 65%:
Roper Technologies, Inc. (NYSE: ROP) announced today that its Board of Directors has declared a quarterly cash dividend of $0.62 per share, payable on January 24, 2022 to stockholders of record as of January 10, 2022. This represents an increase of 10% over the dividend paid in each quarter of 2021, or an expected $0.23 increase on an annual basis ($0.0575 on a quarterly basis). This is the twenty-ninth consecutive year in which Roper has increased its dividend.
Una empresa que pocas veces defrauda.
Me han chivado en Twitter que es un error de Seeking Alpha, lo había incrementado ya el trimestre pasado.
La web de la empresa: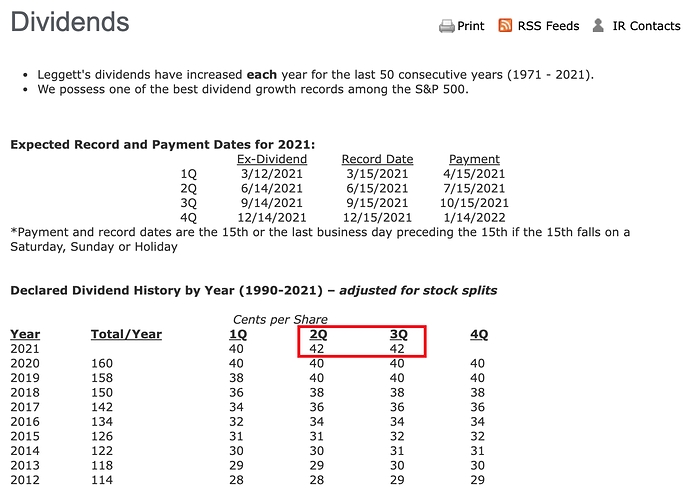 El becario de Seeking Alpha haciendo otra vez de las suyas.
Efectivamente, en julio de este año ya se pagaron 0.42$



buenas noticias
Projected dividend increases: Companies expected to boost their quarterly dividend payouts include
Cato (NYSE:CATO) to $0.23 from $0.17
Royal Gold (NASDAQ:RGLD) to $0.34 from $0.30
Griffon (NYSE:GFF) to $0.09 from $0.08
Motorola Solutions (NYSE:MSI) to $0.79 from $0.71
Nike (NYSE:NKE) to $0.3050 from $0.275
Agilent (NYSE:A) to $0.211 from $0.194
Merck (NYSE:MRK) to $0.70 from $0.65
La-Z-Boy (NYSE:LZB) to $0.16 from $0.15
American Equity (NYSE:AEL) to $0.34 from $0.32
Spire (NYSE:SR) to $0.68 from $0.65
M&T Bank (NYSE:MTB) to $1.15 from $1.10
TSN aumenta el dividendo anual de 1,78 a 1,84 un 3,4%
El becario de Seeking Alpha no anda muy fino este mes
Aumentan el dividendo de 0.445$ a 0.46$ (3.37%)
¿Van a pagar los 0.46$ ya en Diciembre o es solo a partir de Marzo?
Muchas Gracias Ruindog, que bien para los que llevamos algunas de estas. Yo solo llevo MRK pero bien completa.
Ya en diciembre van a pagar el aumento de dividendos a 0,46
Buen hachazo desde luego.