In addition, on July 27, 2022, our Board of Directors voted to increase the quarterly dividend on Lazard's outstanding common stock by 6% to $0.50 per share. The dividend is payable on August 19, 2022, to stockholders of record on August 8, 2022.
Lazard +6%.
Se han recomprado casi el 5% de las acciones durante el Q2. Y en todo el H1 como un 9%.
Esto que dices de Diageo, ese 5% de aumento respecto a 2021, ya lo había declarado en enero de 2022, al menos así lo tengo yo apuntado.
En enero de este año declararon un dividendo de 0.2936GBP que era un 5% más que el de enero del 2021 (0.2796 GBP). Se ha dado la "casualidad" de que el global del 2022 (0.7618GBP) también es un 5% más que el del 2021 (0.7255GBP)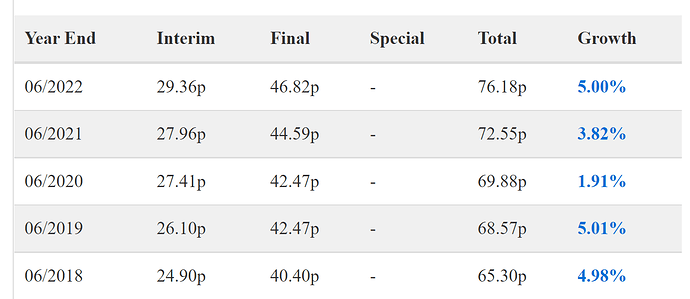 Astrazeneca (LON:AZN) aumenta el dividendo anual un 9.64%
2022: 2.217£
2021: 2.022£
Joe!, qué ganas tengo de que en este hilo salga alguna de mis empresas y que lo suba un ¿10%?, por pedir…
Si eh! Ultimamente solo leo buenas subidas de sueldo y no llevo ninguna. Mi access allocation da pena

The board has declared an interim dividend of 50 European cents, up from 28 European cents a year earlier.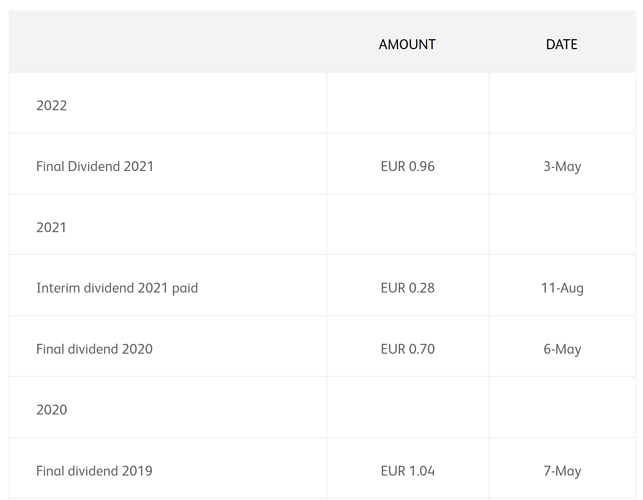 https://www.morningstar.com/news/dow-jones/20220801576/heineken-nv-1st-half-net-profit-topped-markets-views-raises-dividend
Ya le queda menos para llegar a los 8,40 de antes del recorte.
De momento llegamos a los 7,00 dolares no ?
S2
Granito a granito de arena, se hace montaña.
Exacto, antes del recorte estaba en 8,4 (2,1 trimestrales).
El recorte fue serio (sobre 40%), pero por lo menos lo van recuperando a buen ritmo.
El año pasado (2021) me parece que lo subió en tres de los cuatro trimestres y este año ya lo ha subido también en dos trimestres (aunque ya a un ritmo algo menor, sobre un 3% cada subida frente al 7% de las subidas del año pasado).
El año pasado lo subió un 7,7% en junio, un 7,1% en septiembre y un 10% en noviembre.