Con tu permiso Ruindog, pego un pequeño resumen de los aumentos anunciados hasta este tercer trimestre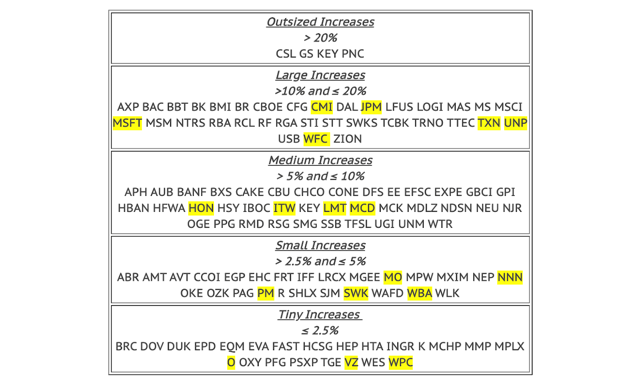 AbbVie +10,3% para 2020

Beat and raise and boosts dividend. Salid a las calles con los cubos para pillar más acciones

Seguro que no llevo tantas como @ruindog que es lo unico que ha comprado este año pero algo me toca
Abbqué? No me suena esta empresa. ¿A qué decís que se dedican?

Yo también tengo curiosidad de a qué se dedica???

Y una tal Starbucks tb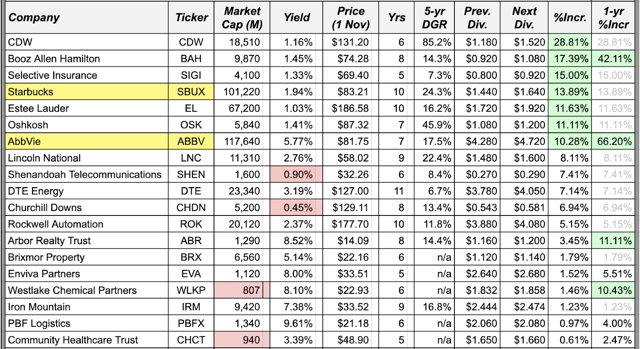 Tupperware Brands suspende el dividendo
Nielsen Holdings recorta el dividendo un 82.9%
Supongo que nadie las lleva
Por suerte yo no

Yo pregunté hace tiempo por tupperware, pero no terminaba de convencerme una rpd tan alta, al final la deseché.
Tenían 15 y 13 en SSD. La verdad es que no suelen fallar (cortes en empresas con seguridades altas). Para mí es un dato imprescindible a vigilar siempre.
Hasta ahora, en mi corta vida de inversor, sólo he visto RPDs altas puntuales y que la cotización no se haya despeñado en mineras y ha sido este año en Río Tinto y creo que en BHP.
Y todos sabemos del dolor intrínseco asociado a las mineras.
NIKE announced today that its Board of Directors has approved a quarterly cash dividend of $0.245 per share on the company's outstanding Class A and Class B Common Stock. This represents an increase of 11 percent versus the prior quarterly dividend rate of $0.22 per share. The dividend declared today is payable on January 2, 2020 to shareholders of record at the close of business December 2, 2019.
Sysco today announced that the board of directors has approved a 15 percent increase in the quarterly cash dividend to $0.45 per share from the current $0.39 per share. The new dividend is payable on Jan. 24, 2020, to common stockholders of record at the close of business on Jan. 3, 2020. "We are pleased to once again declare a dividend to be paid to our stockholders, something Sysco has done every quarter since our founding as a public company in 1970," said Tom Ben—, Sysco's chairman, president and chief executive officer. "As we celebrate our 50th anniversary this fiscal year and look to the future, the substantial increase in the dividend announced today reaffirms our confidence in the strategic direction of our business and Sysco's ongoing commitment to return value to its stockholders."
M&T Bank announced that it has declared a quarterly cash dividend of $1.10 per share on its common stock. This represents an increase of $.10 per share, or 10%, from the previous $1.00 per share dividend paid in the third quarter of 2019. The dividend will be payable December 31, 2019 to shareholders of record at the close of business on December 2, 2019.
Increíble lo de esta empresa. Un rey del dividendo y sigue subiéndolo a doble dígito. Qué pena no haber comprado más cuando lo hice (si me dieran un euro cada vez que escribo esa frase ya sería IF)
Yo con Hormel voy a seguir cargando poco a poco. Sin prisa pero sin pausa
WEC Energy declares $0.6325/share quarterly dividend, 7.2% increase from prior dividend of $0.59.
Forward yield 2.84%
Payable March 1; for shareholders of record Feb. 14; ex-div Feb. 13.