Projected dividend increases (quarterly): Companies forecast to boost their dividend payouts include
Wells Fargo (NYSE:WFC) to $0.20 from $0.10
Weingarten (NYSE:WRI) to $0.30 from $0.23
Wingstop (NASDAQ:WING) to $0.17 from $0.14
MSCI Inc. (NYSE:MSCI) to $0.88 from $0.78
Skyworks Solutions (NASDAQ:SWKS) to $0.56 from $0.50
Mondelez International (MDLZ) to $0.345 from $0.315.
Como un reloj

Seguimos disfrutando del momento dulce del carácter cíclico de RIO TINTO: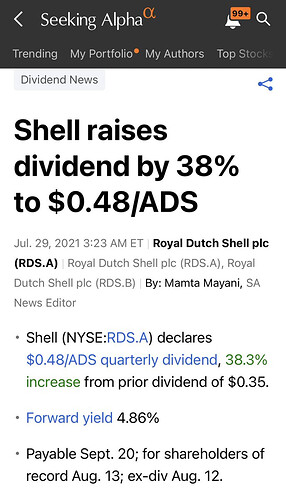 Vaya empresa, y de chuches



Creo que sera una opcion para mi hija
Projected dividend increases: Companies forecast to boost their dividend payouts next week include
Bonanza Creek (NYSE:BCEI) to $0.40 (annual) from $0.35
ResMed (NYSE:RMD) to $0.43 from $0.39
Cable One (NYSE:CABO) to $2.75 from $2.50
Standard Motor Products (NYSE:SMP) to $0.27 from $0.25
Illinois Tool Works (NYSE:ITW) to $1.23 from $1.14
Lleva aumentando los dividendos desde 1998.
Un chupito de Don Julio a la salud del foro Cazadividendos.
Sras y Sres demos la bienvenida a este selecto club a… Micron Technology. $0,10/Q (Menos da una piedra).
London Stock Exchange Group sube el dividendo un 7%: