Entro con un paquetito majo en mínimos del día, a ver si por una vez tengo un buen timming

Respecto al Spin-off (nota de cuando se anunció en SSD):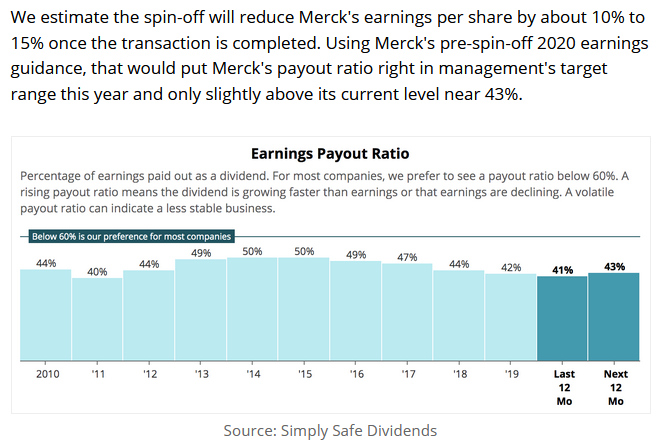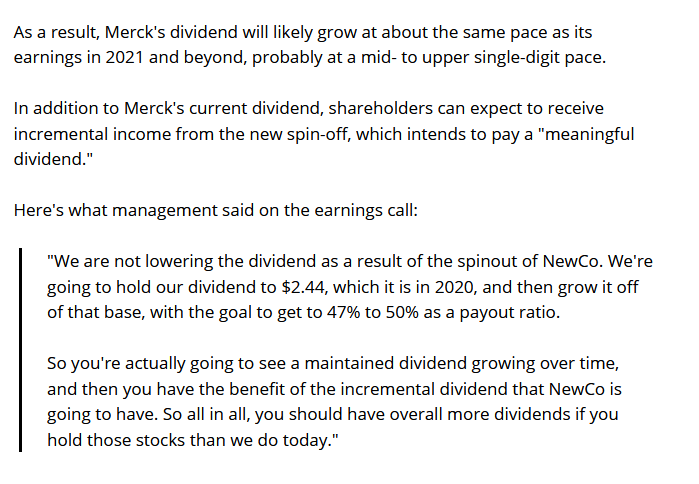 Es algo parecido a lo que pasó con Pfizer y el spin-off (Viatris). PFE ha incrementado 1 céntimo y Viatris se espera que empiece a pagar dividendos a mitad de año. Eso sí, el valor de la segunda no ha hecho más que bajar, ya veremos como va este spin-off…
Explicación de OCU sobre las acciones de Organon que recibirán los accionistas de Merck y de cómo hay que valorar su precio de adquisición cuando se vendan.
A efectos prácticos
Si es accionista de Merck a cierre de mercado del 17 de mayo, recibirá automáticamente el 2 de junio de 2021 una acción de Organon por cada 10 acciones de Merck que posea. Y si no son múltiplos de 10 le pagarán en efectivo los picos sobrantes. La nueva empresa cotizará en la Bolsa de Nueva York a partir del 3 de junio de 2021.
En cuanto a la fiscalidad, la entrega en sí de estos títulos no implica tributación. Eso sí, cuando venda las acciones de Organon deberá considerar como su valor de adquisición 1/10 del precio de adquisición de las antiguas de la farmacéutica Merck que las generaron; y cuando venda las de Merck deberá descontar de su coste de adquisición la décima parte de este coste teórico de Organon (es decir, un 10% menos).

Después de esta operación usted seguirá teniendo el mismo número de acciones de Merck, ahora bien, habrán descontado de su valor el precio de la sociedad desgajada. Por ahora puede conservar ambas acciones.
Esto es incorrecto, El nuevo precio de compra de la acciones de Merck y Organon vendrá determinado por el "spinoff allocation data" que publicará la empresa.
La misma información se puede consultar en:
https://costbasistools.com/spinoff/calculator.php
Poniendo un ejemplo reciente estos fueron los datos del spinoff de Viatris donde se recibieron 0.124079 acciones por cada acción de Pfizer.

Según el razonamiento de la OCU hubieramos tenido que asignar el 12.40% del original cost basis a las nuevas acciones Viatris cuando en realidad fue el 5.20%. Se ha lucido el becario.

Supongo que el broker de turno ( en mi caso Clicktrade) te dará esos nuevos precios de las acciones de las 2 compañías correctamente según el acuerdo de escisión,no?
Es mi primer Spin-off… gracias por la información.
Vendemos antes del spin off y volvemos a comprar despues?
Desconozco si Clicktrade lo proporcionará. Con la calculadora que os he indicado o acudiendo a la web "Investor Relations" de la empresa es muy sencillo sacar la información.
Y para los desconfiados siempre quedará el método manual

You can calculate the percentages yourself if the company does not publish the spinoff allocation data. You can also audit the percentages that the company is reporting. You just need to know the spinoff distribution ratio and the stock market prices for the first day that the parent and spinoff stocks trade separately (the day after the distribution.) You can look up the trading ranges for that day using historical stock price resources such as BIG CHARTS. (Hint: When you use the historical stock price function at Big Charts, if the stock is no longer actively trading under the stock symbol, you can try using the CUSIP number. If that does not work, ask your broker to look up the CUSIP on Bloomberg, Interactive Data, or other databases available to broker/dealers. Large libraries also can provide this information from their archives of stock listings in daily newspapers. ) We have also had good luck finding historical prices at GOOGLE FINANCE.
Be careful to use the stock market trading prices for the day AFTER the spinoff. This is different from the first day of trading for the spinoff stock. Spinoff stocks usually start trading a few days or weeks before the actual distribution date on what is called a "when issued" basis. This gives the market a chance to look at the fundamentals of the stock and allows price discovery to occur in an orderly manner before the actual distribution date.
You are allowed by the IRS to use the opening price, the average price, the closing price, or the trade-volume-weighted average price on the first day of separate trading to compute the cost allocation factors. Most people use the closing price for simplicity. Where the company has provided guidance in the form of a tax information statement, we have tried to use the company's factors in the spinoff database.
The trade-volume-weighted average is where you take all the individual prices that the stock traded at that day and multiply it by the number of shares traded at that price. You then add up all the products and divide by the total share volume for the day to arrive at a trade-volume-weighted average.
Once you have the market prices, you simply use the following formulas to determine your allocation percentages:
Spinoff stock price per share x Spinoff distribution ratio = Spinoff equivalent market price
Parent stock price per share + Spinoff equivalent market price = Combined market price
Spinoff equivalent market price divided by Combined market price = Spinoff allocation %
Parent stock price per share divided by Combined market price = Parent allocation %
Spinoff allocation percent plus Parent allocation percent should always add to 100%
Gracias ruindog.Les preguntaré como lo hacen en Clicktrade y tendré en cuenta el enlace que nos has mandado.
Teniendo cazadividendos quién necesita OCU.


Madre mía, qué locura! Ojalá luego sea más sencillo o mi gestor se entere de algo el año que viene cuando toque declaración

No vendas nunca y adiós al "problema"
Ya, a mi me ha extrañado porque con el Spinoff de Pfizer no lo contabilicé así pero al verlo en el artículo de OCU pensé que lo había hecho de forma incorrecta la otra vez.
Ya no se puede fiar uno ni de la OCU

Sí, pero por otro lado calcular el precio de las acciones de MRK originales, de las Organon nuevas…

Chupao. El 2 de Junio publicamos los porcentajes de asignación por aquí. Si pestañeas te lo pierdes.
Thanks! Estaré bien atento

Suerte que existe el foro y gente como vosotros que manejáis el tema porque si no uno no sabría ni como gestionar lo del spin off.
Solo falta que alguien en el foro nos haga la declaracion, seria una pasada