Un dato a tener en cuenta. Un pass-through es un pass-through. Si la energía sube, sube el precio. Si la energía baja, baja el precio. El beneficio absoluto en dólares debería ser el mismo ya que únicamente traspasas el coste.
No son malos resultados para caer un 10%.



Ésta no es muy conocida - es la antigua WWE. Parece ser que un accionista importante ha pedido vender un paquete de unos $750M (bueno, ahora algo menos

)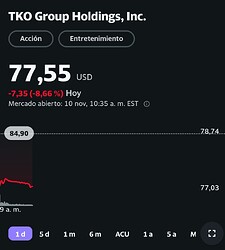 No, en el hilo de DGE ha habido salsa.
Entre BABA y CSCO me han fuleteado el tanque bien hoy
Bayer -18% en lo que va de mañana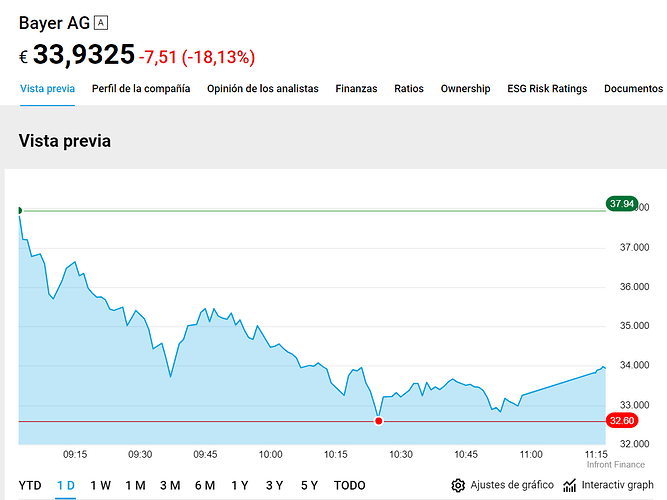 a este precio su dividendo se dispara al 7% pero no me atrevo a entrar, se acumulan las malas noticias, multa de 1500 millones de euros por el herbicida Roundup y además la cancelación de los ensayos clínicos de Asundexian, un anticoagulante en fase III.
No pinta nada bien pero claro, es Bayer, una de las grandes de Alemania…no es una empresa como Wework.
Too Big To Fail?
Pués tras lo de Siemens se les acumula el trabajo.
GE era too big to fail y ahora no es big pero si fail.
Sea por una cosa o por otra Alemania tampoco es ya lo que era.
Ahora podemos liarnos y ponernos a buscar las causas si queremos, pero la cosa es que es así, hasta los todo poderosos alemanes están viendo sucumbir a una parte de sus industrias.
Un saludo.
Don't fight the FED Russia
No sé yo, en la hostia que llevan con Siemens tras cortarse las venas varias veces ellos solitos con Gamesa no creo que hayan tenido mucho que ver los zares. Esa se la han guisado ellos mismos con su mecanismo.
Y esta de Bayer … es USA quien les está clavando los clavos de la caja con las decisiones judiciales.
Un saludo.