A punto de caramelo …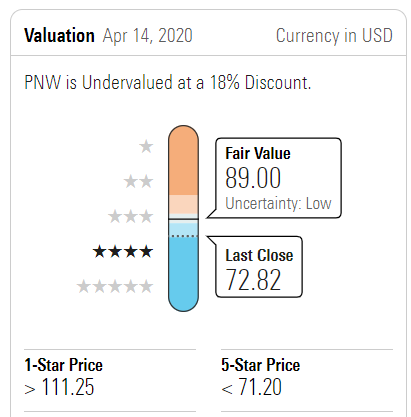 Y tanto,puede que se lleve la compra de este mes.
Que David V. la tenga en cartera también me da buen feeling
Compra mensual : PNW, 25 acciones a la saca.
Te acompaño en el viaje con mis modestas 16 acciones

No soy un experto en las cuentas pero esta empresa que siempre anda con FCF negativo, y si que es verdad que no aumenta su deuda. me da un poco de yuyu.
Además que se hable en todos los foros de ella, también me da cierto temor
(M*)
We are lowering our fair value estimate to $88 per share from $90 after Pinnacle West Capital reported strong 2020 earnings, lowered capital expenditure guidance, and initiated disappointing capital expenditure guidance in 2023. The lower infrastructure investment, driving a reduction in our estimated annual earnings growth, was the primary reason for our fair value estimate cut.
Pinnacle West reduced 2021 and 2022 capital expenditures for clean energy investments by about 50%, traditional generation by 30%, and distribution by 20%. We suspect this sent a message to regulators that it will be difficult to invest in needed infrastructure without a favorable outcome in the pending rate case. A decision by the Arizona Corporation Commission is expected midyear. We believe a favorable outcome, including a clean energy rider, in the pending rate case would likely result in Pinnacle West increasing its capital expenditure outlook.
We forecast annual dividend increases to average 4% from 2021-25, below management's 6% annual dividend-growth target.
Se esta poniendo a 77$ y dando una RPD de 4.30%. Mañana presenta resultados y tengo preparada leña pata echarle y acumular.
Sabes si son premarket o after?
Si, en Seeking Alpha también lo he visto, gracias.

Buenos resultados, superando estimaciones:
Hoy bajando cerca de un 7%.
Creo que voy a ampliar hoy en cuanto llegue al 5% de yield. Por lo poco que entiendo de regulación americana, esta decisión puede afectarle durante un año? pero a largo esto tiene que volver a tener alrededor de 90$ de target price. Me preocupa, que pueda afectar a la subida del dividendo, aunque el margen actual les permite mantenerlo tal como está y dando un 5% y a largo plazo, no lo veo tan mal.
A mi me echa para atras el 66% de payout, segun SA, estaria en el limite pero si no hay crecimiento o hay poco, esta cifra ira a mas.
Eso mismo pense yo, este mes debería anunciar incluso subida de dividendo. Pero aún que la cosa estuviera tan mal como para no aumentarlo, un 4,5% / 5% tampoco es nada envidiable
para utilities yo tengo la siguiente escala:
<94% de payout → aceptable
<75% - Bien
<56% - Excelente
Son empresas con altísima predictibilidad de beneficios, de ahí que un 66% de payout lo sitúe justo a mitad de camino entre bien y excelente
Yo recuerdo el ejemplo de D el año pasado, que recorto dividendo, ahora esta en un 65% de payout, no se como estaria entonces
Yo el único motivo que le veo para que la acción la hagan caer tanto, es su pequeña capitalización de 7,51 millones, frente a 157 de NEE o los 59 de D.
La primera según gurufocus tiene una deuda a ebitda de 4,47 frente a 7,71 de la segunda y 5,69 de la tercera y el payout también es razonable.