Parece que en USA, los yankees no han recortado gastos en el café.
La economia USA es muy fuerte
Aqui siempre tenemos el sesgo de España que lleva en crisis desde 2008
Starbucks nombra al jefe saliente de Reckitt Benckiser como nuevo CEO
Laxman Narasimhan tomará las riendas de la cadena de café del líder interino Howard Schultz
Starbucks nombró al jefe saliente de Reckitt Benckiser como su próximo director ejecutivo, encomendando a Laxman Narasimhan la tarea de ejecutar una estrategia de "reinvención" diseñada por Howard Schultz desde que regresó en abril para hacerse cargo de la cadena de café por tercera vez. El ejecutivo nacido en la India y educado en los EE. UU. se unirá como "director ejecutivo entrante" el 1 de octubre, pero pasará seis meses trabajando con Schultz antes de que el hombre que convirtió a un proveedor de granos de café de Seattle en una marca global dé un paso atrás de su papel de director ejecutivo interino a un puesto no ejecutivo en abril…
Se les ha dicho a los accionistas que esperen más noticias en una reunión de inversionistas en Seattle el 13 de septiembre sobre planes de "cambio de juego" para mejorar la productividad y las innovaciones, incluida una plataforma para vender coleccionables digitales. El tiempo de Narasimhan en Reckitt estuvo definido por los esfuerzos de recuperación y las mejoras en la productividad después de un período de crecimiento mediocre, y la empresa del Reino Unido dijo que había "rejuvenecido" su estrategia y capacidades…
Quizás lo más importante:
The company expects solid margin expansion in fiscal 2023 with progressively more expansion in fiscal 2024 and fiscal 2025. Non-GAAP EPS growth is expected to be in the range of 15% to 20% annually through fiscal 2025, representing an improvement from the previous range of 10% to 12%.
A ver si son generosos con la siguiente subida del dividendo, que está por llegar.
Ambicioso aumento. En una época tan convulsa con una menor subida los accionistas nos hubiéramos "conformado".
Otra Inditex no, por favor
Pero luego te lo suben un 25% y te alegras hombre🤣
Parece que en el congreso del partido comunista del fin de semana pasado prohibieron beber café
Por si alguien no estaba al tanto Starbucks "recortó" el dividendo declarado en los ejercicios fiscales 2020 y 2022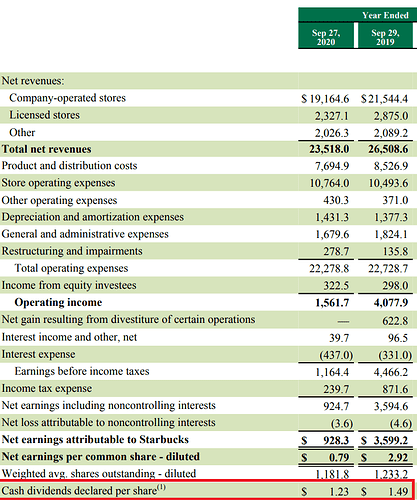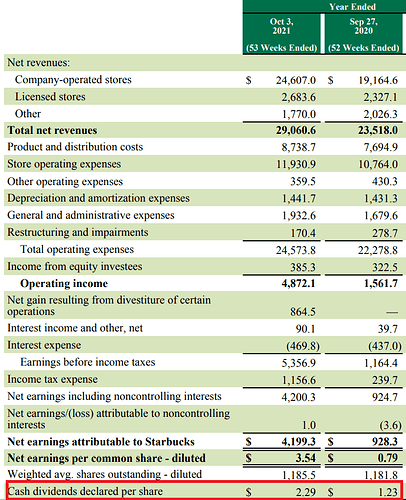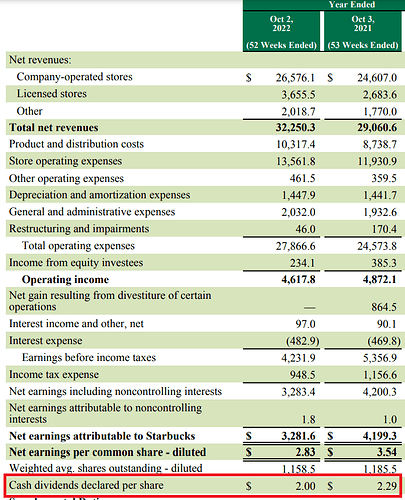 Lo más cool ahora es echarte un chorrito de AOVE en el café

Se me acaba de aguar el café por completo. 10 minutos y -7%. Habrá que ir preparando escopeta
La curriqueira que tiene que dar esto macho…
Aquí uno que ha cargado