1.8% de RPD y 16 años consecutivos incrementando dividendos.
DGR1=10,2, DGR3=7,7, DGR5=6,4 y DGR10=5,9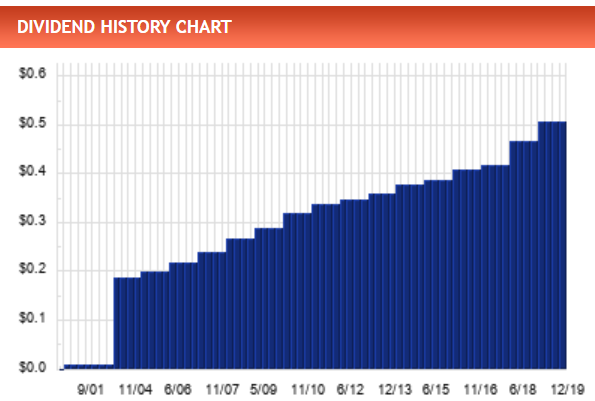 Fourth Quarter and Full-Year 2019 Earnings (13/02/2020)
Revenues for the fourth quarter of 2019 were $3.85 billion, compared with $3.84 billion for the same 2018 period.
Net income for the quarter was $447 million, or $1.05 per diluted share, compared with net income of $531 million, or $1.24 per diluted share, for the fourth quarter of 2018.
On an adjusted basis, earnings per diluted share were $1.19 for the fourth quarter of 2019, compared with $1.13 for the fourth quarter of 2018.
For the full year 2019, the Company reported revenues of $15.46 billion, compared with $14.91 billion for 2018. Earnings per diluted share were $3.91 for the full year 2019 compared with $4.45 for the full year 2018.
On an adjusted basis, earnings per diluted share were $4.40 for the full year 2019 versus $4.20 for the full year 2018.(b)
No llevaba esta acción Gates en cartera? Parece un negocio interesante, de los que no dan sorpresas
Yo a esta le tengo muchas ganas.
Muy parecida pero más pequeña, aunque quizá algo más barata ahora mismo, Pennon Group, estaba muy barata antes de las elecciones en UK, ganó Johnson y subió como un cohete.
Si que la lleva y ponderando casi un 10% en su cartera.
Segunda mayor posición tras BRK según Gurufocus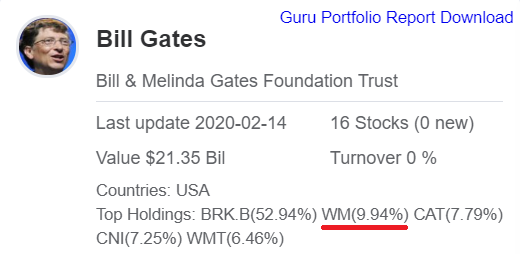 Vaya ponderaciones lleva el amigo Bill. Así nos dice luego @vash que diversificar tanto es de cobardes…

La llevo siguiendo un tiempo y nunca baja

¿Alguien puede hacernos un Head To Head entre Waste Management y Waste Connections?
Tienes que ofrecer un

, la gente no se mueve por menos.
Este sector esta claro que necesita una evolucion(infraestructuras modernas y sistema de reciclado mas eficiente),esta claro que esa evolucion no va a suceder proximamente,mi pregunta es ,creeis que WM esta preparada para ese tipo de adaptacion o alguno de sus competidores le pasara por encima ?
HOUSTON, July 27, 2021–Waste Management, Inc. (NYSE: WM) today announced financial results for the quarter ended June 30, 2021.
+1% en premarket
Y eso se puede decir de otras muchas compañías "aburridas" "fiables" que cotizan a múltiplos de FAANG (o mayores) con menos de la mitad de su crecimiento.
En mi opinión prefiero pagar esos multiplos por Google que crece de manera increible antes que por empresas aburridas que no crecen.
Y no solo es el crecimiento. El balance de Google tiene más cash que deudas y gran parte del pasivo es de los accionistas. No conozco el balance de wm pero en muchas empresas aburridas hay una deuda de 3 veces EBITDA y el 70% del pasivo es de los acreedores.