También del amigo dividend wave una comparación del Margen respecto a FCF del sector de los semiconductores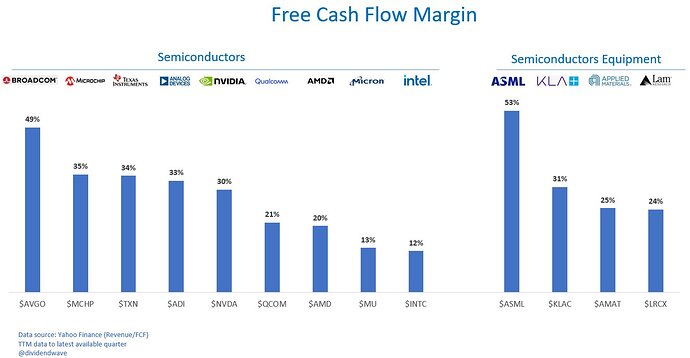 Igual lo de APPL le hace algo de pupita …
Un saludo.
Iba a echarle un pellizco hoy mismo… suerte que vi la noticia!! Es un 20% de sus ventas…
Yo la estaba siguiendo y hoy es otra que me saltó en el screener como con probabilidad de hacer "un p'abajo", pero como no he terminado de verlo claro en el gráfico he ido a buscarle news y me ha salido eso entre otras.
Habrá que darle tiempo a ver si da mas pistas y termina de confirmar o por el contrario se hace la loca.
Un saludo.
Igual baja ventas pero sube márgenes?
Habrá que ver primero si acaba sucediendo (que probablemente sí, y tal vez Tan Hock ya lo tenía en cuenta y por eso están diversificando la cartera hacia software)
Esto sí es un empresón, de las que hay que llevar sí o sí.
A ver qué pasa… otros quisieron como Intel pero tmb fallaron.
Based on the above, investors should not be worried about Apple's own Wi-Fi chip affecting Broadcom's Wi-Fi chip business in the foreseeable future. Instead, in the next couple of years, Apple and competitors will start adopting Wi-Fi 6E/7 chips with higher ASP, and Broadcom is a leading beneficiary in this trend. Also, Broadcom will be the biggest winner from the new iPhone 15's upgrade to Wi-Fi 6E.
Ojala me hiciera caso a mi mismo… Ahora, otra vez despegó.
To the moon


La mejor posición de mi cartera con diferencia, x3.
Si la vendiera y recolocara las ganancias el PADI se pondria muy contento.
Pero es intocable…long, long AVGO.
A 160 las compré el 18/03/2020.
Intocable.
Ya solo falta que tuvieses la suficiente "iluminación" como para meterle hasta lo del cerdito con los ahorros para el viaje soñado de la familia.
Un saludo.