Abro hilo para Cisco aprovechando la presentación de resultados:
Resultados del primer trimestre de 2019.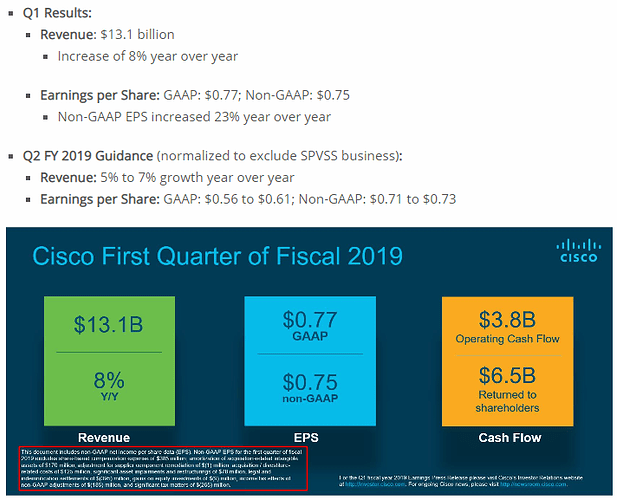 Cae ahora mas de un 7%, parece un tiro en el pie lo de Mr. Trump.
Pues una de las que tenia olvidadas casi y vuelve a entrar en danza, una buena bajada pero que la deja todavia un pelin lejos de los minimos de 52 semanas de 40.
Yo he hecho una primera entrada, rozando los 46 que es un 3%RPD, si sigue cayendo, pues ampliaremos

Fourth Quarter And Fiscal Year 2019 Earnings (14/08/2019)
Q4 Results:
Revenue : $13.4 billion

Growth of 6% year over year

Earnings per Share: GAAP: $0.51; Non-GAAP: $0.83

Non-GAAP EPS increased 19% year over year
FY 2019 Results:
Revenue: $51.7 billion

Growth of 7% year over year

Earnings per Share: GAAP: $2.61; Non-GAAP: $3.10

Non-GAAP EPS increased 20% year over year
Q1 Guidance:
Revenue: 0% to 2% growth year over year
Earnings per Share: GAAP: $0.64 to $0.69; Non-GAAP: $0.80 to $0.82
Abierta OPA sobre Cisco a 47,45$, creo semejante a las ultimas sobre T y algun otro valor que no recuerdo.
First Quarter Earnings FY20 (13/11/2019)
Q1 Results: 1

Revenue : $13.2 billion (+2% year over year)
EPS: GAAP: $0.68; Non-GAAP: $0.84 (Non-GAAP EPS +12% year over year)

Q2 Guidance:

Revenue: (3)% to (5)% decline year over year
EPS: GAAP: $0.61 to $0.67; Non-GAAP: $0.75 to $0.77
Me está tentando mucho CISCO con la bajada de hoy, cotizando a 45$ más o menos. El problema es que no tengo liquidez y sería vender CVS para adquirir CISCO. Un mar de dudas.
Gracias Juanjoo.
Hacía tiempo que la quería y al ver tu post me ha dado por mirar el precio.
Me he llevado "una palá pa casa"

Saludos.
M*
Narrow-moat Cisco's 1% year-over-year sales growth (2% growth excluding divested SPVSS) was slightly better than Cap IQ consensus estimates. The transition to software, robust security growth, and application sales helped buoy weakness in routing products. Order weakness seen at the end of fiscal 2019 continued through the first fiscal quarter, and Cisco expects spending uncertainties to persist. Service provider business in emerging markets continues to be the most problematic area; additionally, Cisco saw weakness in its enterprise and commercial segments in the quarter. Although we expect Cisco to be affected by spending uncertainties in the near-term, we believe its strategic shift toward selling more software and services make the company a sustainable part of the networking and security aspects of hybrid-cloud environments. We are maintaining our fair value estimate of $48 per share. Shares dropped about 5% after Cisco reported, and we view shares as slightly undervalued.
Compared with the prior year, infrastructure platforms decreased by 1%, applications grew by 6%, security expanded by 22%, and services grew by 3%. In infrastructure platforms, switching saw growth in campus and data center markets, wireless strength was driven by the Meraki portfolio, and the data center segment growth was attributed to hyperconverged infrastructure. However, routing weakness in the service provider market pulled the infrastructure platform segment down. The strength seen in the security group was fueled by identity and access security, advanced threat protection, and web security. The applications business had broad-based strength, and AppDynamics experienced double-digit growth. Service sales growth was driven by software and solutions support. Software subscriptions were 71% of total software revenue, an increase of 12% compared with the prior year. Cisco is on track to meet its goal of having 50% of total sales from software and services by the end of fiscal 2020.
¿Entonces esto valida la estrategia de Broadcom de comprar empresas de software en vez semiconductores?
Aunque parezca una obviedad, el que no se suba a la nube se va a quedar en tierra
Y junto a los que manejen la nube, importante tener en cuenta aquellos grandes que poseen los mayores data-center.
https://www.datamation.com/data-center/data-center-companies.html
De ellos, el REIT más comentado y recomendado para inversión por su calidad es DLR.
BIP también está entrando en este negocio, que por cierto, quien haya tenido problemas por retención de dividendos en esta empresa, en enero se crea BIP-C (corporation en vez de LP).
En la lista encontráis a VZ y T.
Mucho ruido veo en el foro con esta empresa. Que es lo que os gusta tanto de ella? No la tenia en el radar
Aumento del dividendo del 3%, muy rácano para lo que venía subiendo…
M* 13-Feb-2020
Cisco Executes Well in Q2 Amidst Spending Uncertainties

Narrow-moat Cisco Systems' 4% year-over-year revenue decline in the second quarter was expected as macro spending uncertainties weigh on product orders. Customers prolonging their purchase decisions are expected to impact third-quarter revenue as well, but we believe that Cisco is prudently managing costs and is positioned to rebound top line growth as customers invest in their technology demands.

In our view, software and product disaggregation alongside flexible consumption models showcase Cisco's willingness to stay in line with, and prosper from, the rapid changes in the networking landscape. With the ramp of nascent technologies for Wi-Fi 6, 400Gb switching, 5G networks, hybrid-cloud networking, alongside cybersecurity and application demand, we believe that Cisco has healthy upcoming growth drivers. We are maintaining our fair value estimate of $48 per share and view shares as fairly valued.

Compared with the prior year, infrastructure platforms and applications were both down 8%, while security grew by 9% and services expanded by 5%. In looking at the infrastructure business, the Catalyst 9k continues to grow by double-digits, but overall switching revenue declined in the campus and data center markets, and service provider weakness pulled down routing revenue. Meraki wireless had strong growth alongside the rollout of Wi-Fi 6 products; however, overall wireless revenue was down. Data center declined as server sales headwinds persist as more businesses look toward using cloud-based offerings.

While such large year-over-year declines in Cisco's largest business segment can be alarming, the year prior was an incredible spending environment, and we expect technology upgrades for connectivity requirements to propel infrastructure platforms back to growth. Though product orders were down 6% year over year, we also believe the growth in subscription-based software and services can help insulate Cisco in challenging spending environments.
Pues apertura en negativo, muy negativo, baja un 6%