Acabo de ver esta noticia:
Danone vende su filial estadounidense por 769 millones,
¿Alguien la tiene revisada?
Danone en el punto de mira de Kraft y Cocacola:
Resultados del primer semestre de 2018:
Beneficio: 1.204 millones (+23,5%).
Ventas: 12.498 millones (+2,4%).
Facturación 6.414 millones (-4,4%).


Resultados del primer trimestre de 2019:
Y aquí la presentación: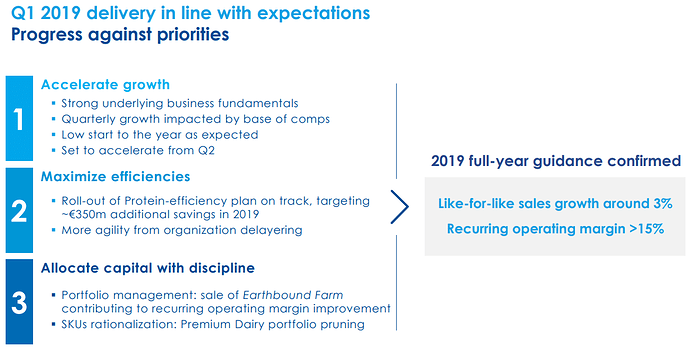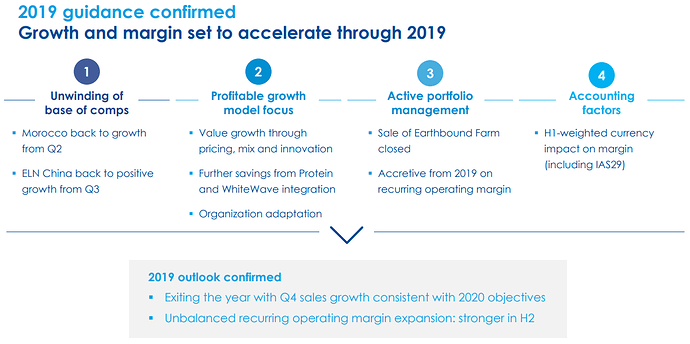 2019 First-Half Results (25/07/2019):
On track to deliver guidance
Consolidated sales up by +1.3% on a reported basis to €6,496m in second quarter
Like-for-like sales growth rebound in Q2 as expected: +2.5%, with all businesses growing at more than 2%
Recurring operating margin improving for the 7
th consecutive semester at 14.69%, up +42 bps
Strong recurring EPS growth: +6.3% at €1.87
Reported EPS at €1.58 reflecting sale of Earthbound Farm and non-recurring restructuring costs
2019 guidance confirmed: like-for-like sales growth of around 3% and recurring operating margin above 15%
También se está dando una buena leche (nunca mejor dicho) por el profit warning. Pero la rpd sigue más baja de lo que me gustaría.
Ya… yo también he estado pensando en entrar o al menos vender put. Pero es que sigue un 16% más cara que hace dos meses… y RPD ni 3. Además, ¿no os da miedo un poco las marcas blancas en la alimentación? Yo con KHC he escarmentado un poco
Sí, la tengo en el radar, pero no acabo de estar convencido. Con PG y UNA creo que voy servido.
2019 Third-Quarter Sales (18/10/2019) - Continued growth acceleration:
Consolidated sales up by +3.7% on a reported basis to €6,418m in third quarter
Third consecutive quarter of like-for-like sales growth acceleration: +3.0% in Q3
Very strong growth of Specialized Nutrition offsets Waters softness due to weather comparables in Europe
2019 guidance: LFL sales growth narrowed to +2.5% to +3% and recurring operating margin reiterated at above 15%
Year 2019 Results (26/02/2020)
Strong recurring EPS growth: +8.3% at €3.85
2019 sales: €25.3bn, up +2.6% on a reported and like-for-like bases, with +4.1% in Q4 on a like-for-like basis
Strong recurring operating margin improvement at 15.2%, up +76bps on a reported basis and free cash flow delivery reaching an all-time high of €2.5 bn
Stronger balance sheet, reaching 2.8x net debt/EBITDA one year ahead of plan
Proposed dividend: €2.10 payable in cash, up +8% from €1.94 last year
Q1 2020 Results (21/04/2020)
First-quarter consolidated sales of €6,242m, up +1.7% on a reported basis
Like-for-like sales growth of +3.7%, including pantry loading benefit in Europe and North America in March
Full-year guidance withdrawn given lack of visibility related to COVID-19
Confident in fundamentals of our unique brands, value chain resilience, and balance sheet strength
Está casi en mínimos con un 4% en dividendos. Sector defensivo. Cómo la veis para entrar?? La verdad es que me dan ganas de entrar…
A mi me tira para atrás la retención francesa
Si, ese es el principal inconveniente, pero a estos precios se podría intentar para largo plazo.
Yo ya estoy dentro y de hecho está en mi top 3 de posiciones de cartera. Si no hubiera agotados los cartuchos de este mes todavía le metía otro pellizco (todo esto sin haber visto aún los resultados Q3 que salen hoy).
A la retención cada vez le presto menos atención, me lo tomo como un rendimiento algo menor y ya está, no me quiero perder empresas buenas por eso.
Acabo de hacer una entrada hoy. Sector defensivo en Francia, mercados excesivamente castigados y ventas repartidas internacionalmente. A este precio me parece buena compra.
% Share of the leading 10 countries that generated the highest net sales for Danone in 2019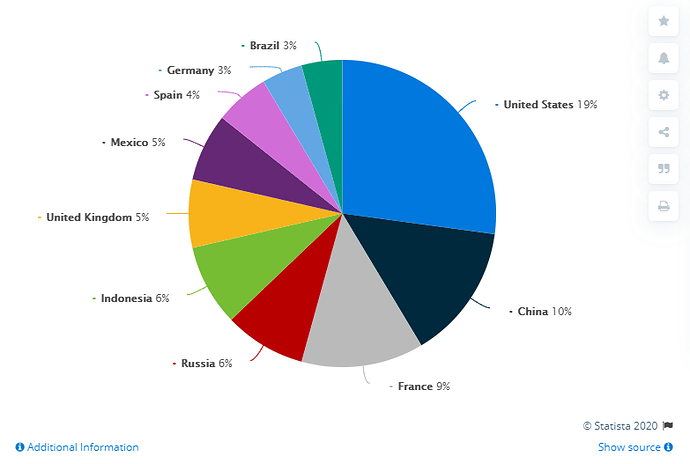 Al final he comprado unas 25 acciones a 52,18.