Abro hilo para esta empresa que se dedica a la extracción de petróleo y gas natural.
No es muy conocida, pero lleva 46 años incrementando dividendos, aunque en general de manera muy lenta. En 2013 tuvo un incremento muy grande: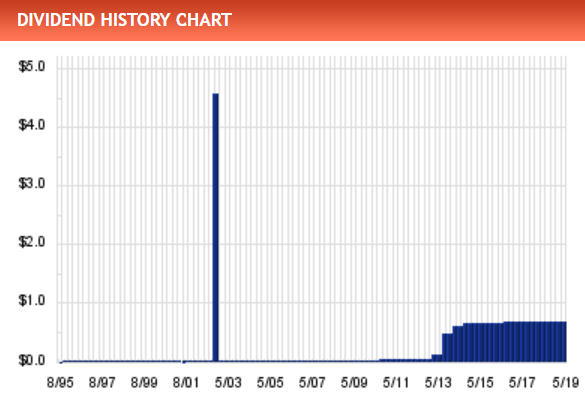 A cotización actual da un 6.5% de rentabilidad por dividendo.
Ahora está en mínimos de 52 semanas y casi un 30% por debajo de la media de 1000 sesiones. La cotización se mueve con mucha alegría entre los 45$ y los 65$ actuales, así que también valdría para tener un tiempo, aprovecharse de la alta rentabilidad por dividendo y vender en la zona alta.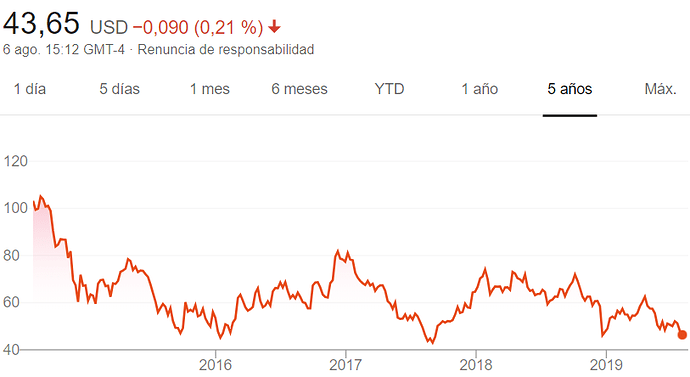 Esta situación no es casual, si nos atenemos a sus últimos resultados, ttrimestrales publicados el 24/07/2019:
Helmerich & Payne, Inc. (NYSE:HP) reported a net loss of $155 million or $(1.42) per diluted share from operating revenues of $688 million for the quarter ended June 30, 2019, compared to income of $61 million, or $0.55 per diluted share, on revenues of $721 million for the quarter ended March 31, 2019. The net loss per diluted share for the third fiscal quarter and the net income for second fiscal quarter include $(1.82) and $(0.01), respectively, of after-tax losses comprised of select items(3). For the third fiscal quarter select items(3) were comprised of:

$0.15 of after-tax gains pertaining to early termination compensation, gains on sales, and discrete tax adjustments
$(1.97) of after-tax losses pertaining to impairments of drilling equipment and spares mainly driven by the downsizing of the Flex4 rig fleet, inventory write-downs, abandonments and accelerated depreciation, and a non-cash fair market adjustment to our equity investments*

Net cash provided by operating activities was $250 million for the third quarter of fiscal 2019 compared to $200 million for the second fiscal quarter of fiscal 2019.*
¿Alguien la sigue? ¿Opiniones?