American States Water Company approved an increase in the company's third quarter cash dividend from $0.275 per share to $0.305 per share on the common shares of the company. The annualized dividend rate after this increase is $1.22 per share, which represents a 10.9% increase from the current annualized dividend rate of $1.10 per share. Dividends on the common shares will be payable on September 3, 2019 to shareholders of record at the close of business on August 15, 2019.
¿Puede ser que la noticia sea vieja?
creo que no, ha presentado resultandos semestrales hoy, y ha recortado su dividendo a cuenta hasta los 6.1c.
el del año anterior estaba en los 12.1c
aunque para ser mas justos… "The Board has approved a share repurchase programme of €25 million and a final dividend declared of 6.1 €c per share…"
Es que me suena que ya habian hecho algo parecido hace poco.
O lo habian hecho o lo habian anunciado, una de dos.
Creo, hablo de memoria, que anunciaron que recortaban el dividendo el 50%. Hasta ahora había tenido efectos en el primer semestre. Ahora anuncian que en el segundo semestre sigue ese recorte del 50%.
No obstante, anuncian otro programa de recompra de acciones por el importe que dejan de retribuir vía dividendos.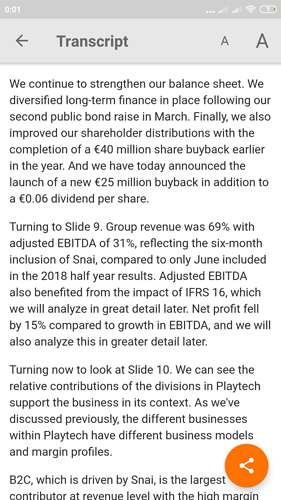 Parece que han reducido el dividendo a la mitad, pero por otro lado han anunciado una recompra de acciones por valor de 25M€.
Altria Group approved a dividend increase to $0.84 per common share versus the previous rate of $0.80 per common share. The quarterly dividend is payable on October 10, 2019, to shareholders of record as of September 16, 2019. The ex-dividend date is September 13, 2019.
Verizon:
The Board of Directors of Verizon Communications today declared a quarterly dividend of 61.50 cents per outstanding share, an increase of 1.25 cents per share, or 2.1 percent, from the previous quarter. The quarterly dividend is payable on Nov. 1, 2019, to Verizon shareowners of record at the close of business on Oct. 10, 2019. This is the 13th consecutive year Verizon's Board has approved a quarterly dividend increase.
Philip Morris International Inc. (PM), through its subsidiaries, manufactures and sells cigarettes, other nicotine-containing products, and smoke-free products and related electronic devices and accessories.
The company raised its quarterly dividend by 2.60% to $1.17. Philip Morris International has managed to boost distributions annually since being spun off from Altria in 2008.
The company has managed to boost dividends at an annualized 16%/year over the past decade. However, dividend growth has definitely slowed down substantially, to just 4.80%/year annualized over the past five years.
Dividend growth has slowed down due to the lack of earnings growth since hitting $5.26/share in 2013. The company has been able to boost dividends by increasing its dividend payout ratio, which has a natural limit to dividend growth.
Between 2008 and 2018, earnings per share rose from $3.24 to $5.08. The company is expected to generate $5.22/share in 2019.
The stock is attractively valued at 14 times forward earnings and offers a dividend yield of 6.40%. The payout ratio is at 89.70%, which is high for a tobacco company, but potentially dangerous given the flat earnings. There is an increased risk that the dividend may be sacrificed if PMI and Altria are allowed to merge.
For a value investor, it may make sense to buy the stock today, and hope that the P/E multiple expands so that you can sell the stock. You will be paid a nice 6.40% in the process, for as long as the dividend is at least maintained. As a long-term dividend growth investor, I see increased risks of a dividend cut, and I do not want to be limited to just earning the dividend from a security. I buy shares in growing businesses to hold on to, and not to buy low and sell high. The flat earnings per share create pressure on management to do something, such as pursue acquisitions and do different things to jump-start earnings growth. This activity may come at the expense of the dividend. If they successfully manage to kick-start earnings growth, then the payout ratio could gradually decline to a more manageable level, while still growing the dividend. Either way, I will continue holding on to PMI and Altria for the time being, but will refrain from adding more to my positions.
McDonald's aumenta el dividendo trimestral en efectivo en un 8%
Pasa a ser 1,25$ trimestral. 5$ anual.
Saludos.
Microsoft un 11% más:
Microsoft on Wednesday announced that its board of directors declared a quarterly dividend of $0.51 per share, reflecting a 5 cent or 11% increase over the previous quarter's dividend. The dividend is payable Dec. 12, 2019, to shareholders of record on Nov. 21, 2019. The ex-dividend date will be Nov. 20, 2019.