osti eso es un x7 ¿las sigues llevando?
Alguien la lleva a través de Caceis como Registered share?
La retención por esa vía es del 12,5%?
Buena subida de dividendo

La vendí porque había bajado el dividendo.

Viva yo.
Yo vendi TRGP por lo mismo, consuelate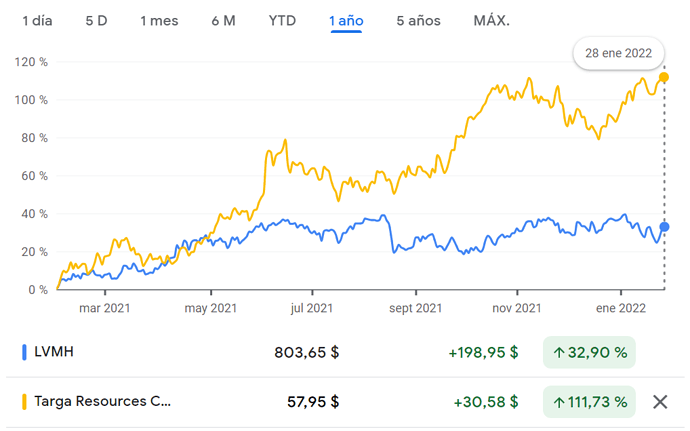 Tambien es importante saber que hiciste con ese dinero. Si compraste otra que ha subido mas el divi o el total return no habría nada que lamentar.
Amplié Fresenius, Henkel y SAP.


Más dividendo pero menos crecimiento. Fue durante la pandemia. Utilicé las plusvalías para enjuagar minusvalías que había aflorado. No todo salió mal.
Hola @waits,
¿Puedes explicar el proceso para llevarla como registered share? (Entiendo que es Pure Registered form según el siguiente enlace)
La comisión de compra-venta es mínimo 10€, ¿cierto? Gracias
Saludos
Hola @espoo, pues mira el primer paso que di fue contactar a CACEIS en el e-mail que viene ahí, toda la comunicación la hice en inglés:
Les pregunté por abrir la cuenta pure registered form con ellos y contestaron bastante rápido.
Para la primera compra te van a pedir un 105% del precio de compra para la comisión. Esta primera compra la tienes que realizar por correo con ellos, luego ya te dan acceso a la plataforma online y ya puedes comprarlas tu mismo.
Y nada les envié por correo los papeles con mis datos, la orden que quieres poner (que puede ser limitada y tal y cual) y por e-mail también se lo envié.
Y luego ya ellos me enviaron la confirmación de compra y los datos de la plataforma online. Que por cierto, este finde tengo que buscarlos porque creo que esta semana que viene amplío

Y poco más, funciona como la seda. Llevo ya 3 años con LVMH y EssilorLuxottica registradas con ellos y genial. Retención francesa del 12,8% y el dinero directo a tu banco el mismo día que pagan el dividendo. Un poco de papeleo al principio pero una vez hecho, ya de por vida.
En fin, si necesitas ayuda con algo me dices. Pero yo te recomendaría empezar directamente por el e-mail y preguntarles y ellos te envían todo el papeleo necesario. Yo incluso hasta llamé, pero eso creo que fue para Essilor porque estos lo tenían con Societe Generale y eran mas lentos. Pero estos de CACEIS fueron bastante rápidos. Pero te recomiendo mejor e-mail antes que el teléfono.
PD: Si, las comisiones son exactamente como ponen en la página web. No hay trampa.
Gracias por tu respuesta.
Entiendo que luego te abonan en la cuenta el sobrante? O te cobran un 5% de comisión en la primera compra?
Tiene pinta de ser parecido al proceso con Air Liquide, les escribiré, gracias!
Saludos
Estos son los mismos que planetshares? Si es distinto, que otras acciones francesas se puede tener registradas con ellos? Gracias!!
Si, correcto. Es simplemente "por si acaso" los gastos o el precio sube mucho en un momento determinado.
Planetshares según entiendo yo son los de BNP Paribas. Cada empresa francesa tiene su acuerdo con un banco/trust para tener las acciones registradas. En el caso de LVMH es CACEIS que es un trust de servicios de inversión.
En cuanto a acciones francesas, pues todas las grandes se puede seguro. LVMH, EssilorLuxottica, Air Liquide, L'oreal, Kering o AXA por ejemplo se que tienen, pero de las del CAC40 imagino que la gran mayoría tendrán.
Gracias @waits. Llevo un tiempo queriendo abrir posiciones en LVMH, Air Liquide y L'oreal con acciones registradas (si no me equivoco la retención será menor y alguna de ellas te incremente el dividendo transcurrido cierto tiempo desde la compra). Así que, si como dices permiten operar con estas tres compañías, será cuestión de sacudirse la pereza y empezar a moverse.
LVMH's Sales Remain Resilient With Benefits From Pricing; FVE Maintained
04/14/2022
We are maintaining our fair value estimate of EUR 510 for wide-moat LVMH as the company reported strong first-quarter results, led by its largest and most profitable division, fashion and leather, where sales were up 30% on an organic basis. The positive trends from the past year have continued into the first quarter and the group so far, hasn't seen the adverse effects of rising inflation on consumer purchases. So far, there is also no observed elasticity to implemented price increases either (Louis Vuitton had a mid-single-digit pricing impact in the first quarter and will benefit from a further mid-single-digit price increase in the quarters to come).
Other segments, excluding wines and spirits (up 2% organically), which experienced capacity constraints in cognacs, grew by double digits. Notably, the jewellery and watch division continued to do well (19%) with Tiffany and Bulgari performing strongly. Management mentioned Bulgari's agreement with Tmall, whereby the brand will be sold on the platform with full control of assortment, payments and data. Historically, LVMH has been cautious about third-party online distribution platforms (the right move in our view, allowing it to retain full control over distribution and pricing). However, it may be open to partnerships that are retail-like–with rental fees and without participation in any promotions. We believe Tmall, in particular, could benefit from getting more of LVMH's brands on board, given its entrenchment and popularity with local clients. As an example, competitor Kering's e-commerce business is the "go-to" channel for consumers in the U.S. and Europe but in China, Tmall takes a much higher share of online business.
Fair Value and Profit Drivers
03/18/2022
We are increasing our fair value estimate to EUR 510 from EUR 394 per share for LVMH, to reflect our more optimistic growth assumptions for its biggest and most profitable brand, Louis Vuitton. We expect the Louis Vuitton brand to grow 3% faster than luxury leather goods (in line with its 10-year historical outperformance) supported by an outsize marketing budget, brand recognition, and pricing power. We do expect moderation in growth in the next couple of years to reflect a slowdown in the U.S. market. All in, this means we now forecast 8%-9% revenue growth for Louis Vuitton over the next decade versus 4.7% in our previous assumptions. We also assume some margin compression from record 2021 figures driven by more investments in the business. We model a mid-40% operating margin for Louis Vuitton as a durable level. We expect the leather goods division to grow by 7%-8% after 2020 with an average margin of 38% (41.6% in 2021 and low 30% historically), as solid Louis Vuitton performance offset fast growth of smaller, less profitable brands. We expect the wines and spirits segment to grow at 4%-5% midcycle, driven by an equal mix of volume and mix/price increases, benefiting from the alcohol premiumization trend and increasing Champagne penetration in international markets. We expect margins to be relatively stable in this segment at 31%-32%, with some cyclical volatility as proceeds from price increases are reinvested in marketing. We expect 4.5% growth over the 10-year period for the perfumes and cosmetics division. We expect margins in this segment to approach 14%, still below the mid- to high-teens of beauty industry leaders, given the product mix, lower scale, growth investments, and lower brand equity of some brands. We believe selective retailing should grow at 6% off a low base in 2021 as higher growth of Sephora is offset by slow recovery in travel retail. Our assumption for 5%-6% growth in the watches and jewellery divisions implies high-single-digit revenue growth for Tiffany and margins scaling to mid-20%.