Me ha gustado el artículo que ha publicado este caballero en SA.
Alvaro, si rondas por en el foro, manifiéstate

(M*)
ViacomCBS, which will rebrand itself as Paramount, posted a mixed end to a tumultuous 2021. Paramount+ and Pluto posted strong growth, with 7.3 million net subscriber additions and a 10 million increase in monthly active users, respectively, as the firm finally broke out its streaming metrics. They also updated its long-term streaming subscriber guidance for 2024 to 100 million, up from 65 million to 75 million. To hit this number, management plans a sharp increase in content investment, mirroring plans at rivals Disney, NBC Universal, and Warner.
We are lowering our fair value estimate to $58 from $61 as we expect the continued investment required to grow the streaming business will limit margin expansion more than we'd previously expected.
While the ViacomCBS investor day, held in conjunction with the earnings release, was packed with the now customary dizzying array of clips from new shows and movies, the presentation was mainly focused on the firm's perceived competitive advantages in the direct-to-consumer market. We thought that the presentation laid out a reasonable path forward but for the firm, don't believe that the presentation will assuage skeptics about the firm's ability to compete in a very competitive streaming landscape.
Revenue increased 16% during the fourth quarter, driven largely by licensing and streaming growth as all platforms posted strong subscriber additions and monetization. Unlike its peers, affiliate fee growth was anemic, particularly on the cable side. Total global streaming subscribers increased by 9.4 million during the quarter to over 56 million, led by Paramount+. We long believed that the previous long-term guidance was very conservative and think that the new guidance is also quite achievable. Paramount+ is only available in 26 markets and we expect that the number of markets will double in 2022 alone. ViacomCBS is working with a number of local partners for launches including Canal Plus in France and CJ E&M in South Korea
El fundador de Archegos, Bill Hwang, arrestado por cargos de fraude en EE. UU. Los fiscales acusan al administrador de fondos de cobertura y al ex teniente de un plan que fue de "alcance histórico"
El colapso de Archegos provocó pérdidas de miles de millones de dólares para los bancos de inversión, incluidos Credit Suisse, UBS, Nomura y Morgan Stanley, después de que incumplió en las llamadas de margen, con más de $ 100 mil millones borrados de las valoraciones de casi una docena de empresas cuando las posiciones de Archegos se cancelaron. El grupo usó dinero prestado de bancos como Morgan Stanley y Credit Suisse para acumular posiciones multimillonarias en empresas que cotizan en EE. UU. como ViacomCBS, ahora conocida como Paramount, y los minoristas en línea Shopify y Farfetch. Mediante el uso de derivados, en los que el banco con el que negociaba compraba o vendía acciones en nombre de Archegos, la empresa no dejó huella visible de su actividad para el público inversor…
Un abogado de Hwang dijo el miércoles que el inversionista era "totalmente inocente de cualquier irregularidad" y que las acusaciones eran "exageradas"…
La Comisión de Bolsa y Valores presentó un caso civil paralelo contra Archegos y Hwang el miércoles por la mañana. Dijo que en marzo de 2021, las posiciones de acciones y derivados de Archegos en ViacomCBS representaban más de la mitad de las acciones de libre comercio de la compañía…
@jefedelforo , ¿te ves con fuerzas de cambiar el nombre del hilo a Paramount? Gracias
Los resultados no parecen malos así que solo cae un 7%

La sombra de Warren Buffett es muy alargada
El tito Warren ha sumado 2.500 millones de euros en la firma de medios Paramount y ha provocado un subidón del 10 %
Celanese tambien esta sufriendo el efecto grandpa from Omaha
Esto empieza a oler a otra operación de arbitraje
Red Hat, Monsanto, Activision…
Sigo sin tener claro la fecha en la que se espera que sea efectiva la compra de ATVI
Aproximadamente un año desde que se hizo el anuncio (18 Enero 2022)
¿6 meses para un 20% de rentabilidad?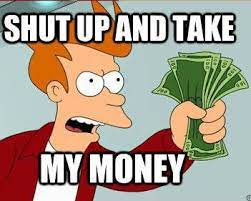 M* le baja el precio objetivo a $45 (antes $58), y ahora mismo cotizando a $15,76

.
¿ Peroquésstapassandooo ?