Yo llevo unos cuantos: SPG, SKT, MAC, IRM, WPG y para una cartera familiar URW. Y he tenido OHI y VER.
Yo ahora llevo IRM, SPG, SKT, GEO y URW, pero he llevado O, EPR, WPC, OHI, STAG y alguno mas que no recuerdo
Me jodieron con VNQ así que ahora llevo una minicartera de REITS formada por:
O, OHI, URW, NNN, VTR, IRM, STAG, WPC, DLR, SPG y PSA
¡Qué asco el que le he cogido a URW!
Hola buenas tardes,
Estoy valorando añadir un reit americano a mi cartera. He estado leyendo por varios foros y por lo que he visto, la retención en origen no está clara si es un 30% o un 15% como en el resto de acciones.
¿La retención en origen es del 30%, aún disponiendo de el formulario W-8BEN ?
¿Alguien tiene claro que es lo correcto?
Gracias
No se qué es lo correcto pero ING retiene el 15% en origen en los REITs
Gracias Vash. ¿Y Degiro lo sabes por casualidad lo que retiene?
Se quedaria en 15 en origen con el formulario.
A mí en clicktrade me retienen un 15%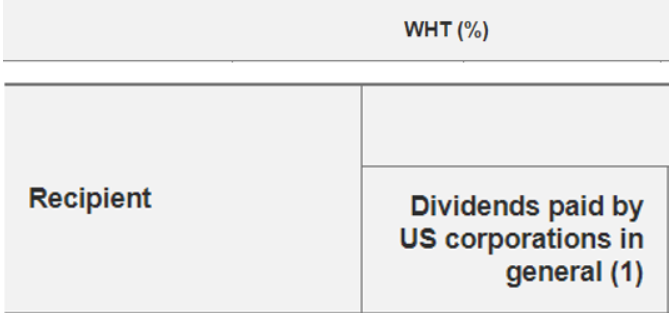 (22) The rate in column 2 applies to dividends paid by a RIC or REIT . However, that rate applies to dividends paid by a REIT only if the beneficial owner of the dividends is (i) an individual (or pension fund, in the case of France or New Zealand) holding not more than a 10% interest in the REIT, (ii) a person holding not more than 5% of any class of the REIT's stock and the dividends are paid on stock that is publicly traded, or (iii) a person holding not more than a 10% interest in the REIT and the REIT is diversified.
(27) Amounts paid to a pension fund that are not derived from the carrying on of a business, directly or indirectly, by the fund are exempt. This includes amounts paid by a REIT only if the conditions in footnote 22 are met. For Sweden, to be entitled to the exemption, the pension fund must not sell or make a contract to sell the holding from which the dividend is derived within two months of the date the pension fund acquired the holding.
DeGiro retiene también con el 15% en los reits.
Hola estoy empezando a formar una cartera y quizás incluía algunas reits:
¿Cuáles me aconsejáis para y siguiendo estos meses?
En cuanto a fiscalidad son iguales que por ejemplo una acción de coca cola?
hasta donde se y segun retenciones aplicadas en Interactive Brokers (retienen el 15% en origen) si son iguales que una acciones de KO.
Por ley están obligados a repartir creo que un 90% del beneficio en dividendos.
Yo llevo Simon Property Group y Realty Income. En España está MErlin y en Holanda Unibail pero me fio mas del trato al accioniste de las empresas USA y mas con la que se viene en Europa.
Gracias Ángel, las voy apuntando.
De todas formas en seeking alpha hay muchisimos articulos de REITS en EEUU (es un sector sobre el que se escribe bastante) donde te puedes hacer una mejor idea de cuales son los de mas calidad. Saludos.
Buenas a todos,
Después de leerme el hilo entero he visto que allá por el año pasado se veían los Reits como una muy buena opción para tenerlos como "vacas lecheras" durante X tiempo. Pero ahora mismo, visto toda esta situación que pocas veces se habrá dado en nuestra historia, los seguís viendo con los mismos ojos?
Estamos hablando que SPG a estado a 14-15% de RPD por los precios que ha llegado a tener (yo hice mi primera posición en esta con precio 53,50$) y estoy casi casi convencido para entrar esta semana en O.
Pero lo dicho, los seguís viendo como antes de todo? Creéis que muchos pueden caer? Ahora mismo tenemos buenas oportunidades de compra con los Reits?
Un saludo!
Seguramente alguno se quedara por el camino, pero si, yo los sigo viendo como vacas lecheras, y entre ellos los mejores, los de mas calidad, que aunque hayan bajado seguiran pagando dividendos.
SPG, O, WPC pueden ser algunos de ellos, pero con la que esta cayendo cualquiera sabe que puede pasar.
Esperemos que sigan ahí al pie del cañón.