Inauguro hilo para poner noticias y hacer seguimiento del todopoderoso índice director de las bolsas mundiales
Blackstone Inc. (NYSE:BX) and Airbnb Inc. (NASD:ABNB) will replace Lincoln National Corp.
(NYSE:LNC) and Newell Brands Inc. (NASD:NWL) in the S&P 500 respectively,
S&P 500 constituent Deere & Co. (NYSE:DE) will replace Walgreens Boots Alliance Inc.
(NASD:WBA) in the S&P 100. Walgreens Boots Alliance is no longer representative of the
mega-cap market space. Walgreens Boots Alliance will remain in the S&P 500.
Effective prior to the open of trading on Friday, August 25, 2023, Kenvue Inc. (XNYS:
KVUE) will be added to the S&P 500 Dividend Aristocrats Index. The addition of Kenvue is
the result of S&P 500 Dividend Aristocrats constituent Johnson & Johnson (XNYS: JNJ)
offering to exchange the shares of Kenvue held for shares of Johnson & Johnson in a splitoff exchange offer that expired on Friday, August 18. Johnson & Johnson and Kenvue will
both remain in the index.
¿Cómo es que BX no formaba parte del SP500 antes?
Porque así es la vida.
El SP500, contrariamente a lo que muchos puedan pensar, no es un índice con las 500 empresas de mayor capitalización de USA.
Hay un comité que decide quien entra y quien sale, aparte de que hay unos requisitos mínimos para entrar.
Así que nada más lejos de la inversión pasiva que invertir en el SP500


Tenia entendido que se requerían un mínimo de capitalización, tener beneficios de manera consistente y no se qué más.
¿En el MSCI World también son así de arbitrarios o es capitalización y ya?
Condiciones necesarias pero no suficientes para formar parte del SP500:
Market capitalization must be greater than or equal to US$14.5 billion. The market cap eligibility criteria are for addition to an index, not for continued membership. As a result, an index constituent that appears to violate criteria for addition to that index is not removed unless ongoing conditions warrant an index change.
Annual dollar value traded to float-adjusted market capitalization is greater than 0.75.
Minimum monthly trading volume of 250,000 shares in each of the six months leading up to the evaluation date
Must be publicly listed on either the New York Stock Exchange (including NYSE Arca or NYSE American or NASDAQ (NASDAQ Global Select Market, NASDAQ Select Market or the NASDAQ Capital Market).
The company must have its primary listing on a U.S. exchange, be subject to U.S. securities laws and derive at least 50% of its revenue in the U.S.
Securities that are ineligible for inclusion in the index are limited partnerships, master limited partnerships and their investment trust units, OTC Bulletin Board issues, closed-end funds, exchange-traded funds, Exchange-traded notes, royalty trusts, tracking stocks, preferred stock, unit trusts, equity warrants, convertible bonds, investment trusts, American depositary receipts and American depositary shares
Luego tiene que aprobar su entrada en el índice el comité del SP500 y darle la patada a alguna otra
Y sin embargo Philip Morris está dentro. Qué cosas.
Porque esos son los requisitos para entrar pero una vez dentro no te echan por no cumplirlos

Philip Morris está porque originalmente era parte de Altria + Kraft + Mondelez
Lo mismo pasa con empresas que tienen menos capitalización que el mínimo necesario
El loco mundo del SP500

Por si alguien duda de la "todopoderosidad" del s&p, este es el desempeño de las bolsas europeas cuando estos muchachos se toman el día de asueto: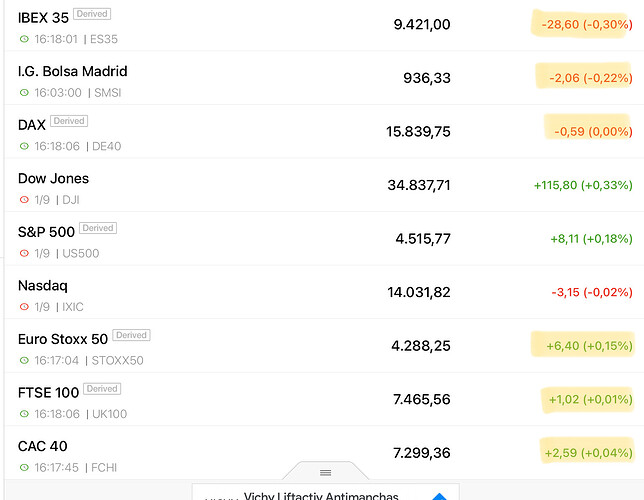 Igual deberían plantearse no abrir la parada cuando los yankis descansan, porque no deben ni sacar para cubrir los gastos de abrir el chiringuito

Pues sí, a veces incluso van en positivo y cuando abre WS a la baja, se dan la vuelta

Por eso, entre otras cosas, yo en mi cartera de fondos/etf sí pondero más el SP que el world o directamente que el Eurostoxx.
Europa es un erial que nada entre regulaciones, cortapisas y burocracia. Es la UE amijjos.
Las 10 empresas más grandes del S&P 500 representan ahora el 34% del índice con una relación P/E promedio de 50x.
Este es el porcentaje más alto desde 2001, durante la burbuja de las puntocom.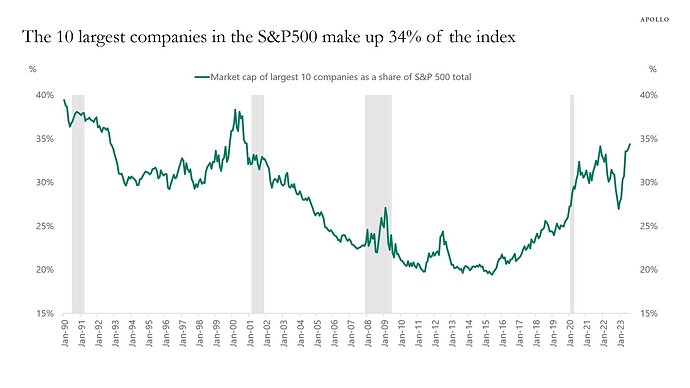 https://twitter.com/KobeissiLetter/status/1703077854487904258?t=h4TEJimi1FfaQk3dyVrfUA&s=19
Pierde la media de 100 sesiones por primera vez desde marzo
Hastags: #SeAcercaElFin, #PaKeMeHabreIndexado