Puesto que no hay un tema dedicado del Value Line empiezo yo uno. Podéis acceder a través de suscripción o a través de alguna biblioteca americana como la de Santa Mónica:
Además de los típicos screeners y reports de las compañías, hay varías cosas interesantes. Una es el índice de acciones (Index to Stocks), donde nos da una lista de las acciones con sus rankings de timeliness, safety, etc… Además nos da el ranking de "Industries" ordenados por timeliness. Al parecer hay una "anomalia" llamada el Value Line Enigma(*) que dice que las acciones con mejor timeliness en las industrias con mejor timeliness lo hacen mejor que las peor puntuadas.
Otra cosa interesante son los portfolios modelo de VL. Están clasificados del I al IV:
Portfolio I: Stocks with above-average year-ahead Price Appreciation
Portfolio II: Stocks For Income And Potential Price Appreciation
Portfolio III: Stocks with long-term Price growth Potential
Portfolio IV: Stocks with above-average dividend yield
Si no me equivoco, creo que lo van actualizando todo cada semana. Por si nunca lo habíais usado o por si no sabíais ni que existía simplemente teneis que hacer click en "Summary & Index" y en "Selection & Opinion":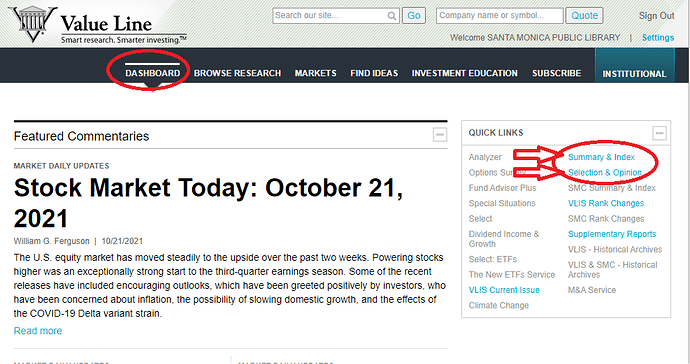 Os dejo pantallazo de los portfolios II y IV que son los más orientados a los dividendos: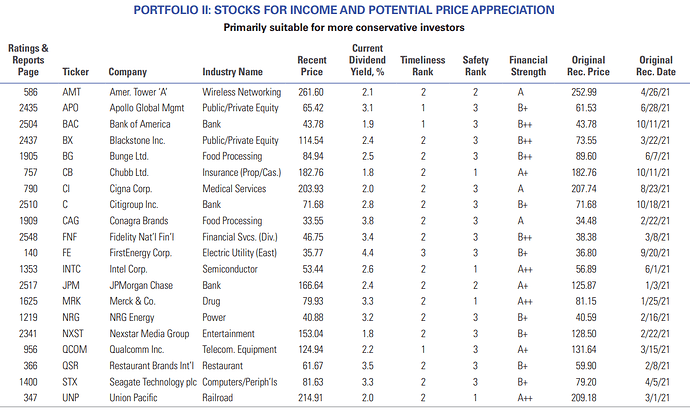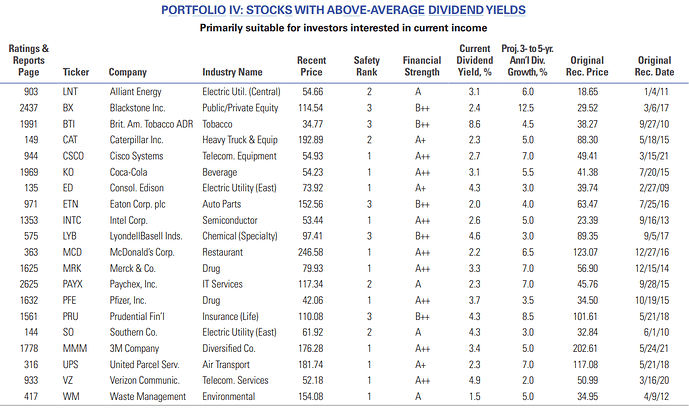 ¿Alguno usa estos portfolio modelo? ¿Sabéis si han dado buen resultado en el pasado? En mi opinión los de VL "se mojan" más que M* y creo (opinión subjetiva) que se equivocan menos.
*Creo haberlo leído en algún libro viejuno de bolsa de los que yo me descargo de library genesis. He podido encontrar este paper, pero ignoro si el inversor particular puede si quiera sacar ventaja de esta anomalia:
Zhang, Y., Nguyen, G.X., Le, S.V., 2010. Yes, the value line enigma is still alive: evidence from online timeliness rank changes. Financial Review 45, 355–373.