Aumento Boorkfield Corporation BN
El otro día vi que no podía comprar acciones de Telus en ClickTrade lo cual me extrañó. Ante mi solicitud de información solo me dijeron que era por una restricción de su custodio. Buscando un poco veo esto
https://www.5iresearch.ca/questions/147187
Q: Any idea why Telus shares can't be owned by non-residents of Canada?
A: Under the Telecommunications Act, non-Canadian ownership of voting shares of Telus is limited to 33.33% of the outstanding voting shares.
Y debe ser que ya se ha alcanzado el límite. Entiendo que los que estáis en IB tampoco podéis comprarlas ¿correcto?
Sí me deja poner la orden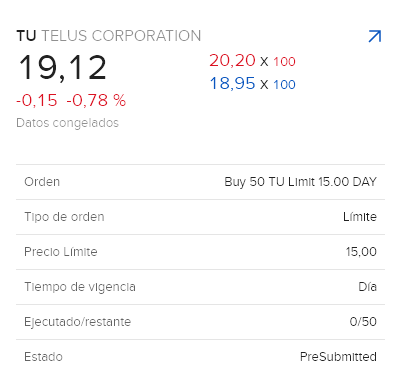 La tenía en el radar para meterla en cartera aunque el payout es un poco alto.
La que cotiza en el NYSE es la que he mirado.
Son las acciones canadienses las que no se pueden comprar
Al comprar la canadiense me da error
Pero no sé si es porque no tengo moneda de ahí o porque no se puede comprar

Es curioso que Canadá ¿uno de los países más liberales del mundo? tiene un modelo muy parecido a la malvada y comunista China en unas cuantas cosas …
Muchas empresas canadienses cotizan en New York y no son ADRs. Siguen teniendo el mismo ISIN canadiense. Prueba a comprarla allí
Pues me fundo la liquidez y entro en CNI. Si baja más se intentará ampliar.
Amplío TD y abro posición en RY.
Amplio TD a un yield del 5,35%
Ay! Tienes razón, me sale que paga 0,7204 al trimestre lo que viene a ser 2,88$ anuales, así que el yield es del 5,01% y cambiante porque paga en dólares canadienses y el cambio fluctúa.
Aumento Brookfield Corporation
Bajada en el Safety Rank de VL de 1 a 2 para los siguientes bancos canadienses:
¿Podemos fiarnos de los analistas?