Me apetece verme todos los capítulos de Shin Chan del tirón
Cada temporada de Stranger Things se me hace más pesada que la anterior
¡Tres puntos, colega!
Ah, no. Ese era Chicho terremoto.
Shin Chan es el de "culito culito"

He descubierto Crunchyroll y ahora estamos viendo "That time I got reincarnated as a slime". Muy buena.
Bienvenido al mundo del anime

Abandónala por la nueva película de la Pataky que por lo que he leído es la última "obra maestra" de Netflix

If you:
like high-intensity plots that are incredibly well-researched
have waited for ages to finally see a believable and well-written female action lead
love great, witty dialogue and its flawless delivery
are a fan of sublety and great taste in pacing
have a faible for a sublime, but powerful score
long for incredibly emotional and competent acting
have an eye for masterful direction
hope for Netflix to greenlight content based on quality for a change
despise nepotism
are hyped by gritty, well-choreographed and skillfully performed, captured and edited action
… you should skip this and save yourself the embarrassment.
¿Alguien ha visto esta serie y quiere dar su opinión?
Yo.
Palomitera.
Le sobran como poco la mitad de los capítulos.
El "prota" que se dedique a los Guardianes de la Galaxia.
PD: estoy empezando Hacks (HBO) y promete.
Bueno es saberlo. Ni la empiezo.
Para mi gusto este año no hay color
Emmy Nominations 2022 - Drama Series
"Better Call Saul" (AMC)
"Euphoria" (HBO)
"Ozark" (Netflix)
"Severance" (Apple TV+)
"Squid Game" (Netflix)
"Stranger Things" (Netflix)
"Succession" (HBO)
"Yellowjackets" (Showtime)
Emmy Nominations 2022 - Limited Series
"Dopesick" (Hulu)
"The Dropout" (Hulu)
"Inventing Anna" (Netflix)
"Pam and Tommy" (Hulu)
"The White Lotus" (HBO)
Solo he visto
¿Me he perdido algo interesante?
Por suerte o desgracia pocas he visto de esas, pero me las anoto

simple curiosidad, estáis suscritos a todas esas plataformas, vais rotando o directamente torrent que te veo?

En mi caso, netflix, hbo (a veces) y torrent.
HBO y Prime Video vienen con el pack de Vodafone. Para todo lo demás Torrent
Vi el trailer y no me convenció mucho (y eso que sale la Daddario)
No hay que ver trailers
Daddario
Esta la vi la semana pasada y veo que no la ha mencionado nadie. Me ha parecido un drama muy potente sobre lo puta que puede ser la vida en ocasiones. Visión muy psicológica de los malos tratos, si acaso en mi opinión peca de maniqueísmo, ya que casi todos los hombres que salen son alcohólicos o maltratadores.
Andy McDowell lo hace insoportablemente bien.
Me acabas de convencer con el punto 2
Del mismo equipo (autora de los libros en que están basadas, guionistas, dirección…):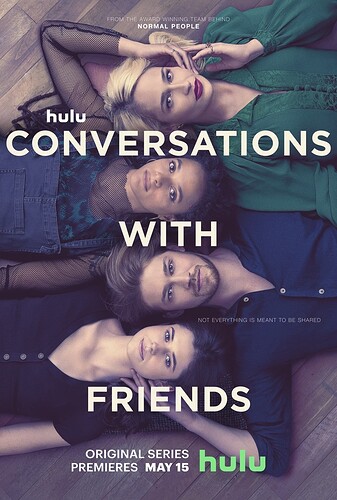 Ya lleva unos meses pero no me suena que saliera por aquí.
Veo que sois gente experimentada en esto de las series y que lo que os prima a la hora de valorar una serie son las dotes interpretativas de su prota femenina…
Un saludo.
P.D.: Que sepáis que los lacayos de Irene están apilando leña en la plaza del pueblo para hacer escarmiento con vuestra quema pública en la hoguera.