Y aún así se las apaña para incrementar el dividendo año tras año (… y ya van 45).
Buenas, una duda a los que lleváis esta empresa…cotiza con la retención en los dividendos del 25% de irlanda?o se cobra por EEUU?muchas gracias
Según tengo entendido, retiene el 25%, una lastima porque se está poniendo apetecible.
Correcto, te retienen el 25%.
Aunque se compre como empresa USA, su sede está en Irlanda.
Rubicompra 20 acciones. Que Dios reparta suerte.
Por aquí también ando tentado de darle un mordisco antes de que termine la sesión de hoy
¿Es esta la nueva chica de moda en la oficina?
Un saludo.
mmmm demasiadas cristalizaciones de tirosina se ven ahí … ese te lo han congelado antes de ponerlo al aire …

Un saludo.
Analyst Note | by Brian Colello Updated Nov 22, 2022
Medtronic delivered disappointing fiscal second-quarter results, and we're lowering our fair value estimate to $112 per share, down from $122, after adjusting our full-year and fiscal 2024 estimates downward. In the second quarter, the firm faced challenges that have dragged down growth, some of which were specific to the firm and others that have affected the entire industry. In the former bucket, Medtronic struggled with supply shortages in surgical innovations, delayed U.S. regulatory approval of the 780g insulin pump, and battery replacement headwinds in neuromodulation. In the latter bucket, unfavorable foreign exchange rate changes, higher input costs, hospital staffing issues that have pulled down procedure volume, and China's volume based procurement, or VBP, program have also put pressure on Medtronic. Considering these issues are unlikely to resolve themselves within the next few quarters, we've pulled back our projections for fiscal 2023-24. Despite these short-term hurdles, we think Medtronic's wide economic moat remains intact, as its intangible assets and switching costs have not weakened, in our view.
The quarterly growth of 2.5% in constant currency was fueled by structural heart and specialty therapies. Most other divisions posted low-single-digit growth in constant currency, which presented incremental progress from first quarter but falls short of the medical technology market growth around 5%. Management has had two years, albeit under pandemic conditions, to put the pieces in place for a return to market growth at Medtronic. As COVID-19 recedes, we're looking for signs of some businesses to bounce back over the ensuing quarters. However, we recognize that management's emphasis on generating innovation often takes longer to bear fruit. Considering we've seen it take rivals about three years to rev up and commercialize a new product cycle, we're watching for signs of success in fiscal 2024.
¿Como la veis? La tengo de candidata para compra del mes. Moat intacto, a precio de derribo y esperando frutos del I+D aunque sea para 2024.
Está muy endeudada, mucho más que el promedio de su sector tanto a corto como a largo plazo.
Sumando su yield con su recompra de acciones da una rentabilidad total bastante mediocre.
Yo no la considero adecuada para mi estrategia, a no ser que cayera un 30 %
Y yo que la tenía de las primeras en la lista de la compra … y vas y me la echas para atrás


Pero me pongo a repasar un poco por encima y veo lo siguiente:
Según la CQSS :
VL Financial Strenght: A++
M* Financial Health: A
S&P Credit Rating: A
Según M*
Debt/Equity ratio = 0.33
Según Marketscreener:
Leverage (Debt / EBITDA): 2,08x
Y según Simply Wall St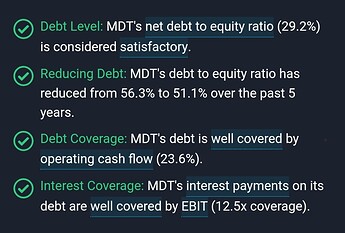 Me vuelvo a M* para comparar el gasto por intereses frente a los beneficios operativos y me sale que que los intereses necesitarían multiplicarse por 10 para matar los beneficios.


A lo mejor me estoy perdiendo algo, pero yo no la veo muy endeudada.
Yo los he obtenido en GURUFOCUS
Gracias por vuestras aportaciones, son muy útiles. Creo que según el punto de vista la deuda puede ser excesiva o no, da para analizar más en profundidad.
Entiendo que eche para atrás que este más endeudada que su sector aunque sea una deuda que parece manejable siempre que no haya sobresaltos.
Edito: he visto que publica resultados el día 8 de diciembre.