Alguien sabe como puedo acceder al formato antiguo para los datos financieros? Si para una empresa pincho sobre Financials, me aparece en este formato (imagen de cuenta de pérdidas y ganancias)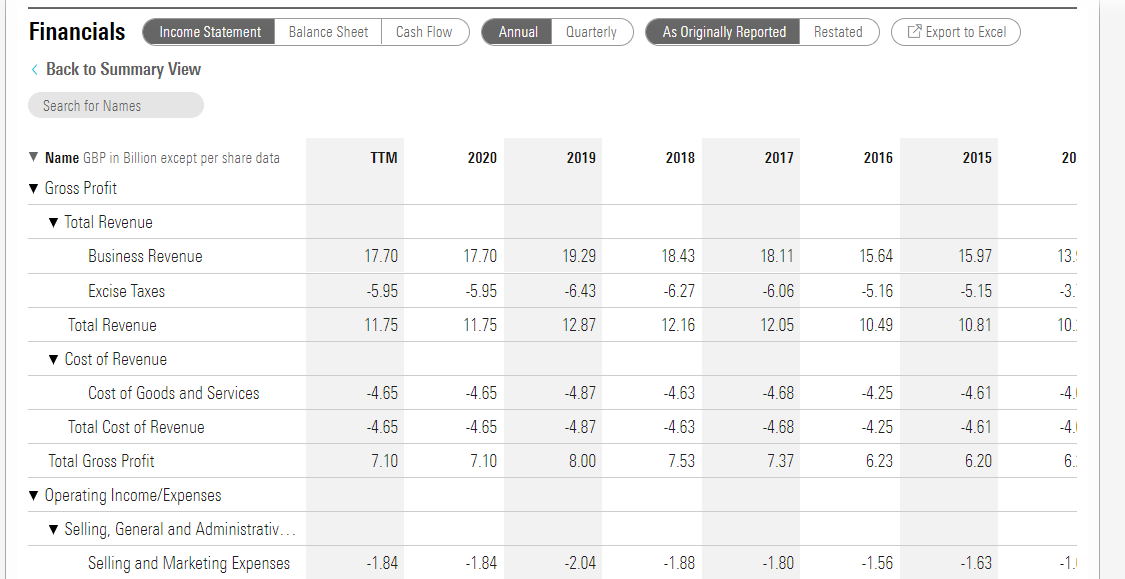 Me parece un formato horrible y no me entero "de ná".
Lo que busco es algo así (tengo este enlace guardado de 2017):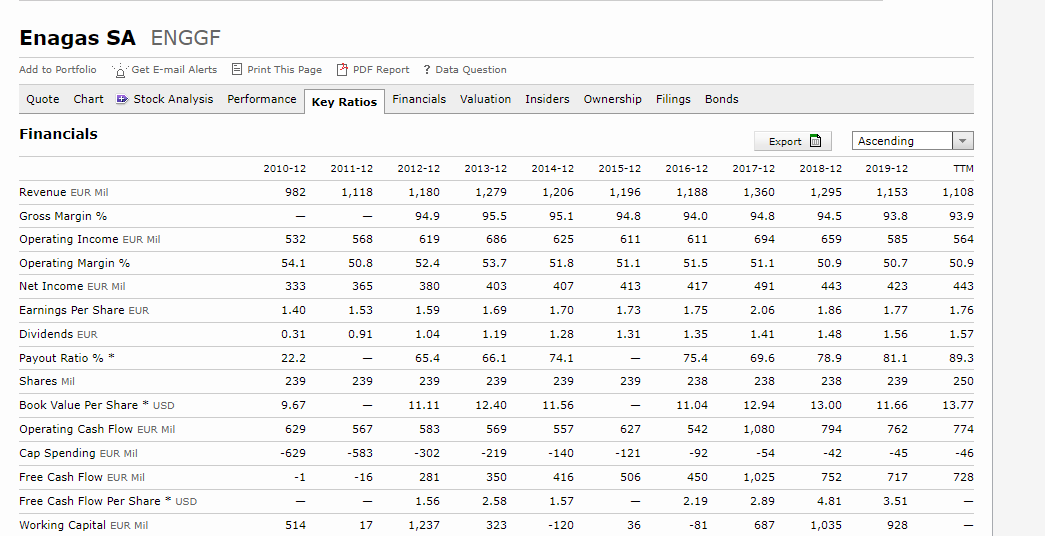 Y ya si además salen balance y flujos de caja lo triunfamos. La cuestión es que desde la actual página de M* no sé llegar a ese formato, y si desde esa hoja de Enagás intento buscar cualquier otra cosa me dice que va a ser que no, no carga nada.
Haz click en Key Ratios > Full Key Ratios Data
Hola Espoo. No sé pegar imagenes, pero por ejemplo:
Para KO: https://www.morningstar.com/stocks/xnys/ko/quote
Selecciona "Full KEY RATIOS" (entre Quote y Short Interest) y ahí ya te aparece la opción "full key ratios data".
Y se te carga la siguiente pantalla: https://financials.morningstar.com/ratios/r.html?t=0P000001BW&culture=en&platform=sal
Si alguien sabe poner capturas es mucho más visual

Madre mía, ya hay que ser torpe para no haberlo visto… pues lo he pensado un montón de veces solo que nunca había preguntado jaja. Muchas gracias a ambos.
PD: @paulshirley, para poner imágenes simplemente copia y pega, o haz un recorte con la herramienta de recortes y pega
y ya que estamos… los números cuantitativos de moat, stewardship y esas cosas?
http://tools.morningstar.co.uk/uk/util/documentproxy.aspx?key=EquityQuant&secId=0P0000A63G
El secid tienes que sacarlo de la url que te ha dado @paulshirley:
Uno es el quantitative fair value. Lo calcula un algoritmo. el otro el fair value sin la q es un valor más cualitativo y es calculado por un analista.
El quantitative se actualiza cada día. El cualitativo se actualiza una vez cada trimestre o así. O si existe alguna noticia relevante.
Si buscas una empresa como por ejemplo Ercros, aólo saldrá el valor quantitative
Y el campeón de los descuentos esssssssssssssssssssssss … una vez massssssssssssss … y seguro que no la última…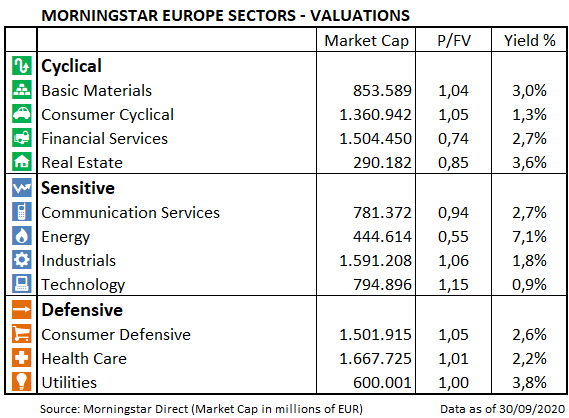 Un saludo.
Energy Sector??? Quién lo hubiera esperado!!!
Y el Technology el mas sobrevalorado!???
Que raro todo…
Estas son las acciones europeas mejor valoradas
Morningstar ofrece una visión general mensual de las acciones europeas con valoraciones más atractivas. La lista incluye las acciones más infravaloradas sobre una base ponderada por sector y ajustada al riesgo del índice Morningstar European Market Large-Mid Cap.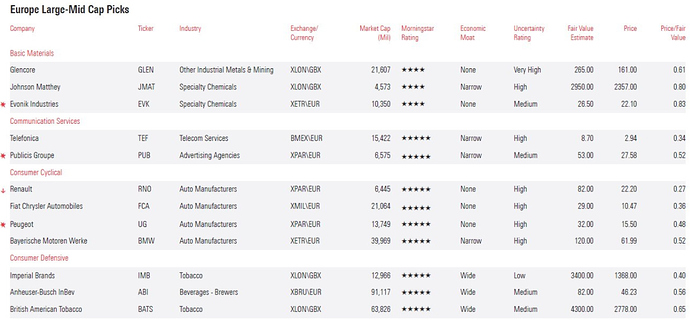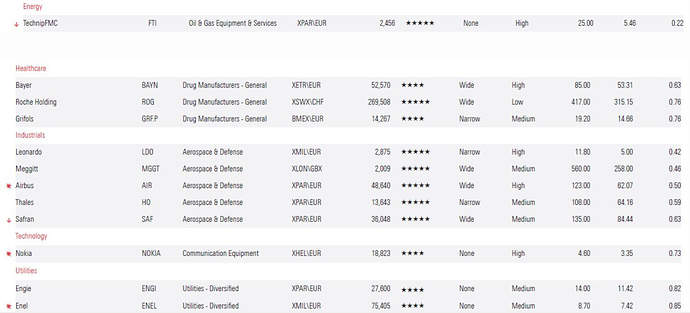 ¿ Te vas a poner morado a comprar TEF ?
Ya me puse…



De los creadores de MOAT y GOAT ahora también MOTI … aunque en esta última parece haber cabida también para empresas "narrow moat"
https://www.vaneck.com/etf/equity/moti/overview/
VanEck Vectors Morningstar International Moat ETF (MOTI®) seeks to replicate as closely as possible, before fees and expenses, the price and yield performance of the Morningstar® Global ex-US Moat Focus IndexSM (MGEUMFUN), which is intended to track the overall performance of attractively priced wide and narrow moat rated companies outside the U.S. with sustainable competitive advantages according to Morningstar's equity research team.
Interesante punto de vista ese nuevo etf.
En el GOAT tienes empresas con Wide moat a un precio de per 23 y book value 3,30. Ya en mi cartera.
En el MOTI (que por cierto creo que no es UCITS) tienes menos calidad de moat a un precio más barato, per 13, book value de 1,08. Como diversificación podría tener cabida en mi cartera.